Destined Mate by Katie Reus
Series: Werewolf Mates, Book 1
Publisher: Harlequin Nocturne Cravings
Genre: Paranormal Romance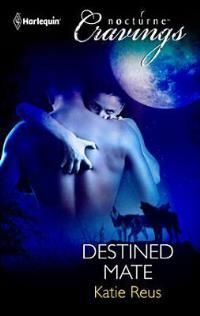 ASIN: B005N99JFK
Source: Publisher
Blue Ribbon Rating: 3 out of 5
Original Review Link
Book Purchase Link
It's been nearly a century since Angela has seen Knox, the man she loves. Knox is a werewolf Alpha, and she fled his embrace when she was turned into a vampire. Now a vampire friend of Angela's has been kidnapped by a werewolf, and Angela plans to rescue her. But when she sneaks onto Knox's land; her former lover captures her. This time, however, Knox isn't willing to let Angela go. But will their rekindled romance ruin any chance for peace between their two species?
Passion, politics and the paranormal go together perfectly in author Katie Reus' novel, DESTINED MATE. Readers will hit the ground running in DESTINED MATE, and the fast pace doesn't let up. Strains of the movie Underworld slink through this sexy tale. The former star-crossed lovers in this story must overcome prejudice from both species. I was fascinated by the paranormal politics in DESTINED MATE, almost as much as I was interested in the romance. Ms. Reus had me cheering Angela and Knox on, and I avidly read DESTINED MATE to see how these two would get their happily ever after. And you know they will - it's clear that Angela and Knox are, yes, destined to be together.
Sensual, exciting and entertaining, DESTINED MATE is sure to delight fans of paranormal romance.
Note:
My review was written for Romance Junkies and is cross-posted here with permission from Romance Junkies.
FTC Disclosure:
I received this book for free from the publisher in exchange for an honest review. This does not affect my opinion of the book or the content of my review.