What kind of man is a match for Brown Family bad girl Raven Smith? Well, last week readers got to find out when Lauren Dane's final (for now) Brown Family book,
Drawn Together
released. I was lucky enough to interview Ms. Dane for Wit and Sin and I have to say, I'm more excited than ever to see what Ms. Dane writes next.
Check out
my review
to see what I thought of
Drawn Together
(spoiler alert: I can't wait to read more Brown Family novels) and then scroll down to read my
interview with Ms. Dane
and to
learn more about Drawn Together
.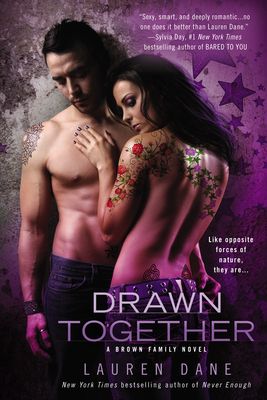 Wit and Sin:
What inspired you to write the Brown Family series?
Lauren Dane:
Erin was the heart of it from the very start. I had this scene come to me and it ended up being the opening scene for
Laid Bare
– a woman on stage, boots, dreds, tats and piercings. Music was a huge part of it as well. I wanted her to be bold and strong and vivid but also to have this darkness.
Laid Bare
was born and at the start it was just a one book sale to fill in a slot in the Berkley schedule so at the start I had no idea it would be a series. As I finished up
Laid Bare
though, I knew I wanted to do books for Brody and Adrian but as I was about halfway through
Coming Undone
, I realized I wanted a book for Cope and that he needed to be with Ella.
Eventually, I wanted to write Raven's book but she needed a few years to be ready for her HEA. She's a fitting close for this generation of Brown/Keenan/Copelands and friends.
I love this tight knit group of friends and intentional family. I love how colorful and artistic they are. I love how much they love and support each other while retaining their edges. I'm happy I wrote them all!
W&S:
You've said that
Drawn Together
is the last Brown Family novel – for now. Do you have ideas for the next generation already? Whose child (or children) would you like to write about most?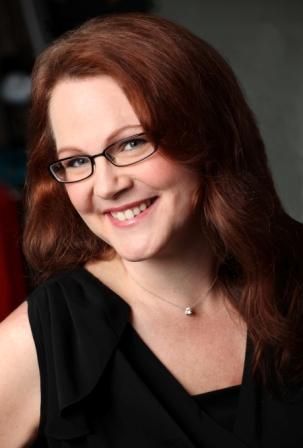 LD:
Yes, I do have some ideas about the next generation. I've got a number of other projects to finish up first but eventually I'd like to write books for Alexander, Poppy, Martine, Miles, Rennie and Maddie (Cope and Ella's daughter). They're all manner of artists. I won't spoil and say who does what, but there'll be musicians, dancers, fine artists, a tattoo artist too.
W&S:
Do you have any favorites of the characters you've written?
LD:
Polly Chase is my all time favorite character and Rowan Summerwaite is a very close second.
W&S:
What's one thing about being an author you wish someone had told you before you were first published?
LD:
The thing about hard lessons is that no one can tell you, you have to experience and learn it that way. Publishing is a hard business. It's full of challenges at every level you achieve. You can't understand it until you're living it (sort of like childbirth or being in love).
W&S:
When you're not writing, what do you like to do?
LD:
I've got three kids so I'm usually feeding them, driving them somewhere, cleaning up after them, correcting homework, nagging about homework or showers or bedtime. I love to read and cook and watch movies with my husband too.
Lauren Dane
is the New York Times and USA Today bestselling author of several dozen novels. Visit her online at
www.laurendane.com
,
www.facebook.com/LaurenDane
, and
www.twitter.com/laurendane
.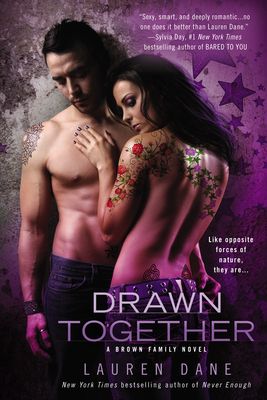 Beauty is more than skin-deep…
Tattoo artist Raven Smith is blunt and hard, broken and jaded, dark and beautiful. While she doesn't hide her painful past, she does keep a wall around her heart. She's free sexually—but no one gets to the real Raven beneath the prickly exterior.
With a voice like smoke, Jonah Warner is a smooth-talking, highly successful attorney, with a body that should never be hidden by a suit. He's the kind of man who never takes no for an answer and always gets what he wants. And what he wants is Raven. She's a survivor, and he finds that incredibly alluring.
Jonah gets under her skin in a way Raven has never experienced. He makes her break all her rules—including her no-monogamy rule.
But when a figure from Raven's past shows up at the tattoo parlor and drops a bomb into her life, their relationship will face the ultimate challenge…
Excerpt
from
Drawn Together
on Ms. Dane's website.
Purchase
Drawn Together
here:
Amazon
|
Barnes & Noble
|
Indiebound