The Luckiest Lady in London by Sherry Thomas
Publisher: Berkley
Genre: Historical Romance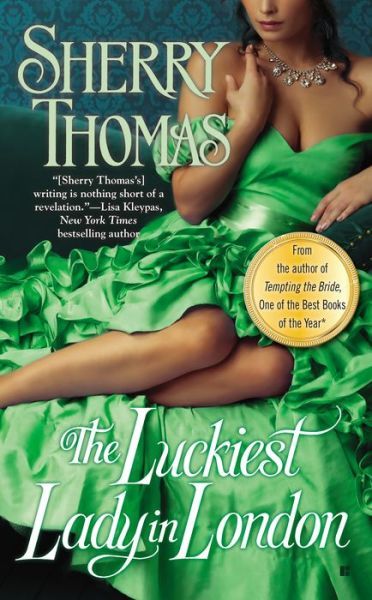 ISBN: 978-0425268889
Release Date: November 5, 2013
Buy it here:
Amazon
|
B&N
By all outward appearances, Felix Rivendale, Marquess of Wrenworth, is perfection. Little does society know that "The Ideal Gentleman" is little more than a carefully crafted façade born from the ashes of pain and loneliness. Felix is content never to let anyone know the true him, until he crosses paths with Louisa Cantwell. The woman is nothing more than a fortune-hunting female, but for some reason Felix can't seem to get her out of his mind. And the closer he gets to Louisa, the more Felix's perfect mask begins to crumble in her presence.
Felix will never allow himself to marry a woman like Louisa – a woman he could all too easily fall in love with – but he could solve her financial problems and cure his obsession with her by making her his mistress. Now all he has to do is tempt the all-too-clever beauty to break all the rules in the name of pleasure…without losing his heart in the process.
The Luckiest Lady in London
is a darkly seductive story that will have you reading late into the night. If Sherry Thomas's gorgeous prose wasn't enough to put her on my list of autobuy authors, her gift for creating complex characters and gripping yet understated drama would.
Felix is exactly the kind of hero I love. He's a richly-drawn character who's not exactly likeable in the beginning, but who
is
deeply compelling. Like Louisa, I found myself caught in his spell, uncertain of what he would say or do next, but desperately wanting to find out. Beneath the surface, Felix is a man whose life has been shaped by the cruelty of his mother and the heartbreak of his father. His upbringing and desire to protect himself from pain lead him to create the persona of The Ideal Gentleman, but make no mistake, he's still very much a hurt little boy seeking love. The conflicting emotions his feelings for Louisa bring out are a significant part of what makes
The Luckiest Lady in London
shine. Because of his internal battle, Felix makes more than one mistake with Louisa, but the way in which he redeems himself had me sighing.
I could go on about Felix, but then I'd be doing the story a great injustice, for Louisa is every bit as fascinating a character as he. She's incredibly intelligent and practical, and circumstances have forced her to be almost calculating in how she goes about securing her family's wellbeing. Like Felix, there's far more to Louisa than meets the eye. She's a passionate heroine whose recognition and acceptance of her own desires make for some seriously hot scenes. And speaking of heat…Ms. Thomas is a master at delivering eroticism without sex. The sexual tension between Felix and Louisa practically made the pages of my book go up in flames. Physically, mentally, and emotionally, these two are a perfect fit. The scenes where they discussed astronomy were every bit as dazzling as their sensual circling of one another. No matter the scene, Louisa and Felix have such amazing chemistry that I couldn't put
The Luckiest Lady in London
down.
A perfectly-matched couple, fantastic dialogue, internal strife, character growth, heartbreak, sensuality, and a happily ever after that's worth fighting for – can you ask for more? This is the first book of Ms. Thomas's I've read, but you can bet that I'm going to be buying up her backlist. If
The Luckiest Lady in London
is anything to go by, Sherry Thomas is (or should be) a shining star of the historical romance genre. Trust me, you don't want to miss
The Luckiest Lady in London
!