Duke of Midnight by Elizabeth Hoyt
Series: Maiden Lane, Book 6
Publisher: Grand Central Publishing
Genre: Historical Romance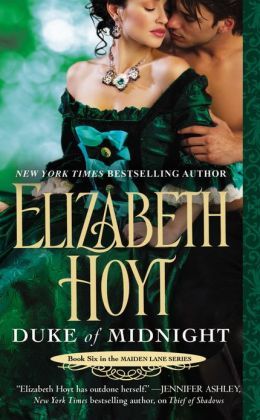 ISBN: 9781455508341
Release Date: October 15, 2013
Buy it here:
Amazon
|
B&N
Elizabeth Hoyt Reading Order
Artemis Greaves has a less-than-pleasant position as lady's companion to her cousin, Penelope. As befits her employment, Artemis fades into the background. No one ever takes note of her…until she steps out of the shadows in a bid to free her brother from his wrongful imprisonment in an insane asylum. Artemis will do anything to rescue her twin, even if that means she risks everything by attempting to blackmail Maximus Batten, Duke of Wakefield.
Artemis knows the truth no one else would suspect: the cold, autocratic duke spends his nights disguised as the Ghost of St. Giles, haunting London's slums to rid the city of its ruinous gin trade and unmask the fiend who murdered his parents. But Artemis gets more than she bargained for when she sets out to blackmail the duke. Now that she has his attention, a dangerous attraction begins to build between the two. Surrendering to her passion for Maximus could take everything from Artemis; her position, her family, her reputation, and – if Maximus's enemy has his way – her life.
Elizabeth Hoyt proves that still waters run can run
very
deep in
Duke of Midnight
. Maximus and Artemis are two people who are so much more than anyone perceives them to be, and only they can see the truth in one another. Artemis wears her companion's garb like a mask, covering her free spirit and fiery nature. Her growing feelings for Maximus bring her true character to the forefront in an explosion of emotion that's pretty reckless given the time period. As for Maximus, he's haunted by the murder of his parents and has become a fairly Batman-like figure because of it. I liked watching Artemis peel back the layers to his character, but though I understood his quest for vengeance when it came to his parents' murders, I grew frustrated with Maximus's determination to sacrifice his heart on the altar of the dukedom when it's clear that no one in his family – dead or alive – would want him to.
One of the things I love most about
Duke of Midnight
is the chemistry between Artemis and Maximus. Ms. Hoyt doesn't back down from raw emotion and break-all-the-rules passion. And break the rules Artemis and Maximus do, almost ruining our intrepid heroine in the eyes of society in the process. A hearty dose of danger and the mystery of who killed Maximus's parents rounds out
Duke of Midnight
, making it a compelling book on every level. Ms. Hoyt knows how to perfectly balance action, romance, and family drama, making her books impossible to put down.
Duke of Midnight
is the sixth Maiden Lane book and the third in the Ghost of St. Giles sub-trilogy. While this book can be read as a standalone, fans of the series need not fear – past heroes and heroines do make cameos. I admit, Godric St. John (of
Lord of Darkness
) absolutely stole the show for me with only a few lines. More important than past favorites appearing in
Duke of Midnight
are the secondary characters Ms. Hoyt brings to the forefront. I'm absolutely dying for Ms. Hoyt to write a book for Maximus's sister Phoebe, as well as a story for the honorable Captain Trevillion, a hero in his own right who almost seemed like the Robin to Maximus's Batman. And don't think I forgot about Apollo, Artemis's wrongfully declared mad twin. Ms. Hoyt has me on the edge of my seat, waiting to see what happens next with him. I won't spoil the story by revealing why I'm so excited, but suffice it to say that the epilogue of
Duke of Midnight
has put Ms. Hoyt's Harte's Folly series at the top of my wish list, whether or not it's part of the Maiden Lane series.
Elizabeth Hoyt is one of historical romance's brightest stars and
Duke of Midnight
shows why. I devoured
Duke of Midnight
in less than a day and I'm hungry for whatever Ms. Hoyt serves up next!