His Lordship Possessed by Lynn Viehl
Series: Disenchanted & Co., Book 1, Part 2
Publisher: Pocket Star
Genre: Historical Urban Fantasy/Steampunk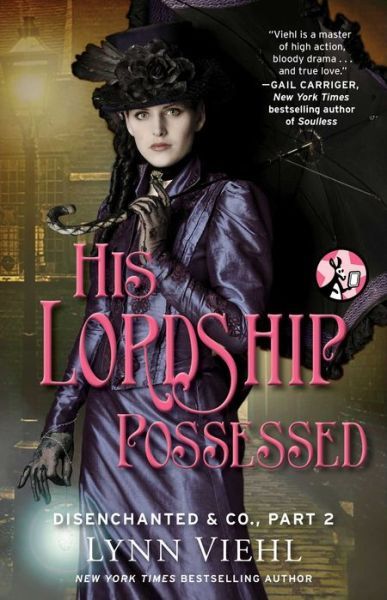 Release Date: October 14, 2013
ISBN: 9781476722344
Buy it here:
Amazon
|
B&N
Charmian "Kit" Kittredge makes her living debunking magic, but right about now she'd kill for a spell that would drop Lucien Dredmore like a stone. The darkly handsome deathmage has kidnapped her and imprisoned her in his home. To make matters worse, Kit had just begun to believe that she was falling for the wretch.
But nothing is as it seems, and not long after she escapes Lucien, Kit comes to believe he might have been trying to protect her. Mysterious forces are at work in Rumsen and they'll do anything to eliminate Kit. If she hopes to survive – and save the people of Rumsen – Kit will have to open her mind to that which she believed was impossible. For magic is not only real, but also deadly.
Nonstop action, compelling characters, and a wonderfully clever world? Sign me up!
His Lordship Possessed
is the enticing second installment to the Disenchanted & Co. series, and trust me when I say that you'll want to block out time to read this, because it's not a book you can put down.
His Lordship Possessed
starts right where the first story (
Her Ladyship's Curse
) ends, and the two parts should be read in order. In
His Lordship Possessed
, author Lynn Viehl takes readers deeper into the realm of magic, further developing not only the incredible world she has created, but the history of our spitfire heroine, Kit. Kit's beliefs are challenged in more ways than one over the course of the story. Almost no one is what they seem, and uncovering the layers to Kit's character – as well as those she's closest to – made for one compelling tale.
I can't deny that, of all the characters in
His Lordship Possessed
, Lucien Dredmore is my favorite. I, like Kit, fell under Lucien's spell the more I learned about him. Though I won't spoil what is told, I have a feeling there's more to learn about the seductive deathmage and I'm looking forward to finding out alongside Kit. And speaking of Lucien and Kit…the chemistry between them is undeniably hot. Their complex relationship makes the pages of
His Lordship Possessed
sizzle at times and I'm
very
hopeful we'll be seeing more of them together in future Disenchanted & Co. books.
As I mentioned before, you should definitely read
Her Ladyship's Curse
before beginning
His Lordship Possessed
, and I recommend reviewing the books' glossaries if you don't read the two back-to-back. I'm afraid I can't reveal much of anything about the plot of
His Lordship Possessed
without spoiling both stories, and quite honestly, far too much happens in this book for me to discuss without writing a novel-length review. Suffice it to say that Ms. Viehl weaves spellbinding new information into the world of Rumsen as Kit's initial case develops into something far larger than she ever could have imagined. The story takes twists and turns that had me on the edge of my seat, rooting for Kit to defeat the enemy and save Rumsen.
Lynn Viehl is a phenomenal writer who has created something special in the Disenchanted & Co. series. I cannot wait to see where she takes Kit and her loved ones in the next book,
The Clockwork Wolf
.
Note:
Her Ladyship's Curse
and
His Lordship Possessed
will also be sold as one book (
Disenchanted & Co.
) as of January 28, 2014.