One Night of Trouble by Elle Kennedy
Series: After Hours, Book 3
Publisher: Entangled: Brazen
Genre: Erotic Contemporary Romance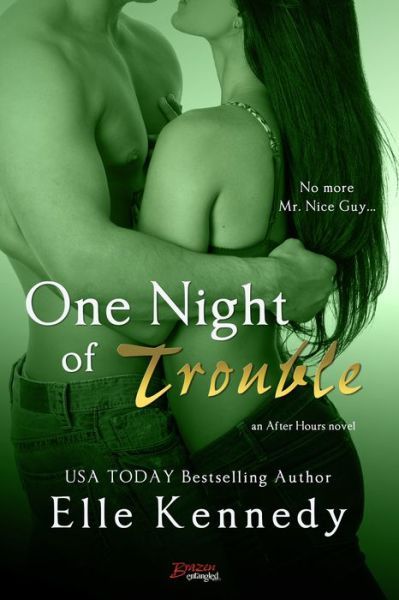 ISBN: 9781633751910
Release Date: January 5, 2015
Source: Author
Buy it here:
Amazon
|
B&N
Elle Kennedy Reading Order
No More Mr. Nice Guy…

The moment AJ Walsh sees the sexy, tattooed pixie walk up to his bar, it's lust at first sight. He's always been labeled the "nice" guy―opening doors, buying flowers, and never, ever having one-night stands. But with this wicked little angel with red lips and unfathomably dark eyes? Oh, yeah. Tonight, "nice" has nothing to do with it...

Brett Conlon is trying to convince her family that she's put away her reckless wild girl side for good. Nothing―and no one―could be better for her reputation than golden boy AJ Walsh. So they make a deal: if he plays The Good Boyfriend for her family, he can be a very, very bad boy with her. Now their one naughty night is about to turn into a whole lot of trouble...
One Night of Trouble
is a scorchingly hot read by Elle Kennedy, a true master of erotic romance. Brett and AJ's story is decadently erotic and utterly engrossing – barring singed fingers you won't want to put this book down ;)
Since the beginning of the After Hours series I've been looking forward to delving into AJ's character. On the surface he seems so perfect that you just have to know what's going on beneath the golden boy façade. Make no mistake, AJ is a nice guy with a big heart who'll make you swoon, but he's also more than the mask he wears. He's not perfect at all, which of course makes him the perfect hero. AJ's got an edge he hides, plus he's sexy-as-sin, deliciously dominant, and dirty to boot. It's a struggle for him to simply be himself and I loved watching him come into his own over the course of the story. Brett is the catalyst for his change. The talented tattoo-artist is also more than others see her to be. She's screwed up in the past and she knows it, but she works to be a more responsible person. You have to respect her intelligence and determination and you have to adore her because she's a straight-shooting, likeable heroine. She and AJ bring out the best in one another, and their romance is unexpectedly sweet. Brett and AJ are also unbelievably
hot
as a couple – melt the page/screen hot. The sexual tension and erotic scenes in
One Night of Trouble
are beyond sexy, so much so that you may need a fan even in the dead of winter.
One Night of Trouble
is the third book in Ms. Kennedy's After Hours series but it can easily be read as a standalone. Gage and Skyler (from
One Night of Sin
) and Reed and Darcy (from
One Night of Scandal
) do play small supporting roles, and I loved what these four brought to the story (though I won't spoil what that is). Though
One Night of Trouble
is the final book in the After Hours trilogy, Ms. Kennedy does introduce Brett's brothers, a trio of intriguing men I hope get stories of their own one day.
AJ and Brett are two strong, wonderful characters with generous hearts and sex appeal to spare. I loved reading their story and I cannot wait to revisit them when I re-read the fabulous After Hours series.
FTC Disclosure:
I received this book for free from the author in exchange for an honest review. This does
not
affect my opinion of the book or the content of my review.