Give It to Me Spicy by Evie Balos
Publisher: Totally Bound
Genre: Erotic Contemporary Romance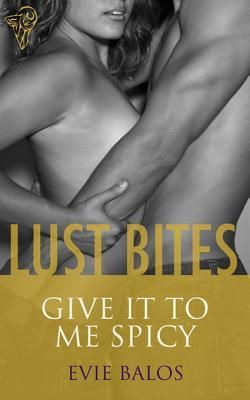 ISBN: 9780857156099
Source: Publisher
Blue Ribbon Rating: 3 out of 5
Original Review Link
Book Purchase Link
For six months, Tara Duncan has lusted after co-worker Jay Moretti. The trouble is, Tara has no interest in being merely another notch on Jay's bedpost…err…office desk, and she's already seen another colleague come out of his office looking suggestively disheveled. But despite her best intentions, Tara can't seem to ignore the heated looks Jay throws her way. And when a new project throws the two of them together, it's not long before the sexual tension simmering between them erupts.
Author Evie Balos turns the heat up dangerously high in GIVE IT TO ME SPICY. Ms. Balos drew me in from the start with the likeable, relatable Tara, who definitely needed some one-on-one time with a certain co-worker. Tara may be wary of being involved with Jay due to something she'd seen, but once the sexy account executive sets his sights on her, she's toast. And who can blame her? Jay's got the whole package, and he's not about to let something like a little misunderstanding keep him from claiming Tara. The push-pull between them was entertaining and when it exploded into red-hot love scenes, GIVE IT TO ME SPICY earned its name. With its fast pace, spunky characters and erotic interludes, GIVE IT TO ME SPICY is a wickedly entertaining read.
Note:
My review was written for Romance Junkies and is cross-posted here with permission from Romance Junkies.
FTC Disclosure:
I received this book for free from the publisher in exchange for an honest review. This does
not
affect my opinion of the book or the content of my review.