All Fired Up by Kate Meader
Series: Hot in the Kitchen, Book 2
Publisher: Forever
Genre: Contemporary Romance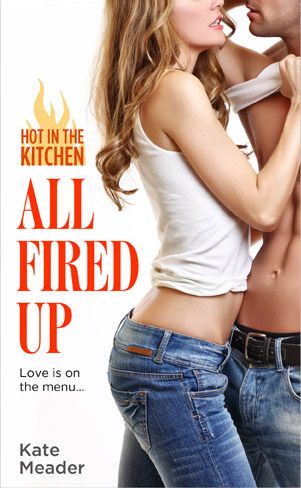 ISBN: 9781455599615
Source: Publisher
Buy it here:
Amazon
|
B&N
Her sweetest mistake…
Cool as a Chicago winter, private events planner Cara DeLuca is a model of self-control . . . until she meets the one temptation she can't resist: Shane Doyle. The sexy, Irish pastry chef is too hot, too sure, too young, and after a crazy night in Vegas-her new husband. While at first Cara wants nothing more than a way out of her sham marriage to Shane, she soon finds that beneath his farm boy demeanor lies a man who can match her drive, both in and out of the bedroom. How can the wrong guy feel so deliciously right?

…Tastes so, so good
Shane has carefully structured his career and life around one goal: connecting with the family that doesn't know he exists. Marrying a woman with more issues than a magazine stand wasn't part of the plan, but melting Cara's icy exterior is so worth the detour. Now as the annulment date nears and long-buried secrets are revealed, Shane will have to fight for the one thing guaranteeing the perfect life he craves…the current Mrs. Shane Doyle.
A sensual pâtissier with an Irish brogue, an events planner who doesn't let anyone or anything distract her, weddings, secrets, and a drunken night in Vegas… It's a recipe for a whole lot of fun. Kate Meader's
All Fired Up
isn't just a foodie's delight – though her descriptions of Shane's creations will make your mouth water – it's a sexy, heartbreaking, complex romance that'll leave you smiling.
I absolutely loved Cara – she's one of the most "real" heroines I've read in a long time. She's rough-around-the-edges, a perfectionist, and a recovering anorexic. It's hard for her to feel like she belongs and she can come off as distant because of this. Put simply, she's not perfect and it was my favorite thing about her. Ms. Meader doesn't pay lip service to Cara's problems, specifically her recovery from anorexia, but rather shows knowledge and respect for the battle Cara fights each day. I loved how well-drawn Cara was and if nothing else, she would have kept me hooked on
All Fired Up
because I so wanted to see her get the happily ever after she deserves. Shane is the first person to truly see past Cara's mask and he's a great fit for her. His Irish charm and talented hands (in and out of the kitchen) make him a sexy hero, but he's got issues of his own. Shane grew up in an abusive household and, like Cara, is searching for a place to belong. I wasn't immediately attached to Shane like I was Cara, but he definitely grew on me over the course of the story. He and Cara have fabulous chemistry and I was rooting for them to overcome the obstacles in their path.
All Fired Up
is the second book in Ms. Meader's Hot in the Kitchen series, but for the most part it can be read as a standalone. The beginning of the book did feel like I was dropped into the middle of the plot, but after a few chapters the rhythm smoothed out. I'm not sure if reading the first book,
Feel the Heat
, would have helped, but regardless I'll be picking it up because I thoroughly enjoyed the scenes with Lili and Jack in
All Fired Up
. In fact, both
Feel the Heat
and book three in the series,
Hot and Bothered
, are waiting for me on my Kindle because I truly liked the DeLucas and Kilroys and cannot wait to read more about them!
FTC Disclosure:
I received this book for free from the publisher in exchange for an honest review. This does
not
affect my opinion of the book or the content of my review.