What a Duke Dares by Anna Campbell
Series: Sons of Sin, Book 3
Publisher: Forever
Genre: Historical Romance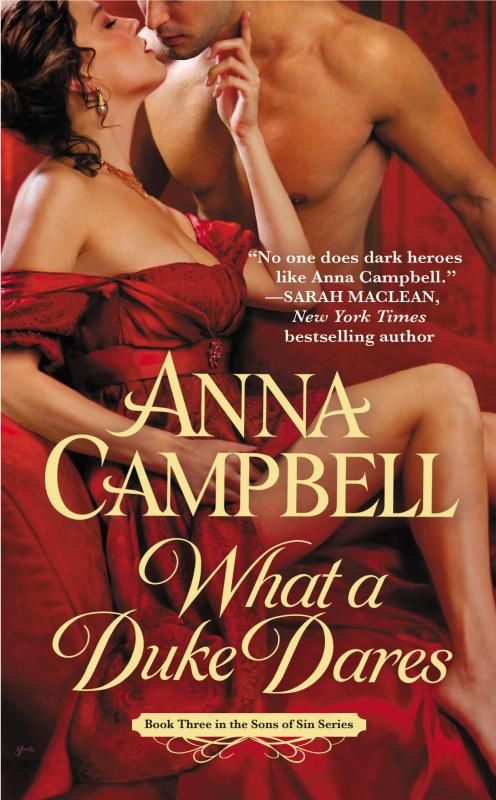 ISBN: 9781455557905
Release Date: August 26, 2014
Source: Publisher
Buy it here:
B&N
Anna Campbell Reading Order
A reputation at risk

What woman in her right mind would say no to marrying the dashing Duke of Sedgemoor? Miss Penelope Thorne, that's who. She's known Camden Rothermere since they were children - and she also knows she'd bring nothing but scandal to his name.

Cam can hardly believe Penelope turned down his proposal. But if she wants to run off to the Continent and set the rumor mill ablaze, he can't stop her. Then her brother's dying request sends him to bring home the one woman he thought he'd finally gotten over.

The only way they'll both get back to London without their reputations in tatters is to pretend they're married during the journey. That means kissing like they mean it and even sharing a bed - until it becomes hard to tell where the game ends and true desire begins...
Get ready for an emotional journey with
What a Duke Dares
! Anna Campbell's third Sons of Sin novel is a vivid portrait of love, passion, longing, heartache, and hope.
I admit, I've been intrigued by Cam from the very first book in this series and I was thrilled to dig deep into his character. He's a hero with a lot of love to give, only his parents' behavior scarred him so badly as a child that he tries his best to wall off his emotions. My heart broke for him, because it's clear he's a truly good man. Yet he's so determined not to turn into his parents, he winds up hurting Pen, even though it's clear he wants to make her happy. And speaking the unconventional lady, Penelope is a strong, outspoken heroine who's not afraid to buck society's rules. She's got a big heart and though it has long belonged to Cam, she doesn't want to have a half-marriage where her husband doesn't love her. I respected that, but her determination to hide her love – when mixed with Cam's distrust of the emotion – takes a toll on both of them. Pen and Cam make numerous mistakes even as they fall deeper in love, and I could feel the frustration coming off them in waves. But every obstacle is worth it in the end, as Pen and Cam are clearly perfect for each other.
A secondary romance between Pen's brother Harry and an heiress whose brother believes Harry to be a fortune hunter provides a fair amount of contrast to Pen and Cam's romance. Harry and Sophie are innocent when it comes to heartbreak and both wear their hearts on their sleeves. Their plotline seems a bit disconnected from the main story at first, but when everything ties together, prepare for fireworks. There's no putting down
What a Duke Dares
by the time the story reaches its climax.
What a Duke Dares
is the third Sons of Sin novel, but it can be read as a standalone. That being said, the complications in the aforementioned storyline involving Harry do have their roots in events that occurred in
A Rake's Midnight Kiss
. However, Ms. Campbell does provide enough information for new readers to follow along. Fans of the series will surely delight in seeing Jonas, Sidonie, Richard, and Genevieve again (I sure did). The strong bonds of friendship between Jonas, Richard, and Cam are on display in
What a Duke Dares
, and I couldn't have been more entertained.
Anna Campbell is a historical romance virtuoso. The passion and emotion of Cam and Pen's romance practically explodes off the page, entrancing the reader. I loved Pen and Cam and I cannot wait to see what Ms. Campbell has in store for readers in the next Sons of Sin story,
A Scoundrel by Moonlight
.
FTC Disclosure:
I received this book for free from the publisher in exchange for an honest review. This does
not
affect my opinion of the book or the content of my review.