Evernight by Kristen Callihan
Series: Darkest London, Book 5
Publisher: Forever
Genre: Historical Paranormal Romance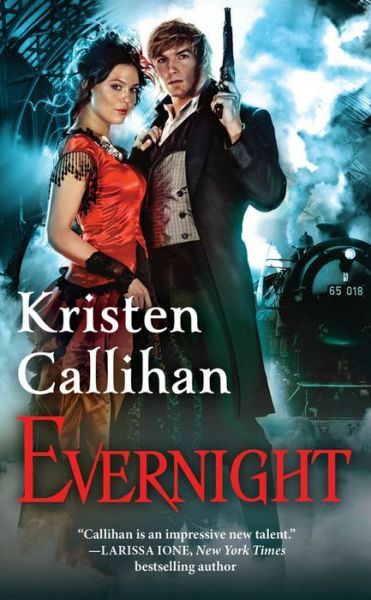 ISBN: 9781455581641
Release Date: August 26, 2014
Source: Publisher
Buy it here:
B&N
Kristen Callihan Reading Order
Once the night comes . . .

Will Thorne is living a nightmare, his sanity slowly being drained away by a force he can't control. His talents have made him the perfect assassin for hire. But as he loses his grip on reality, there is no calming him-until he finds his next target: the mysterious Holly Evernight.

Love must cast aside the shadows

Holly cannot fathom who would put a contract on her life, yet the moment she touches Will, the connection between them is elemental, undeniable-and she's the only one who can tame his bouts of madness. But other assassins are coming for Holly. Will must transform from killer to protector and find the man who wants Holly dead . . . or his only chance for redemption will be lost.
Enter the rich, seductive, dangerous world of Kristen Callihan's supernatural Victorian-era London with
Evernight
. The fifth Darkest London novel is wonderfully unique and intelligent – exactly what I've come to expect from Ms. Callihan.
Holly is a woman ahead of her time. She's a brilliant inventor and has a delightfully practical mind, but she's also been living a sort of half-life since her kidnapping. Will breathes new life into Holly's existence; he draws her out of her shell, he challenges her, and (though it sounds cheesy) he completes her as she does him. What was done to him when he and Holly were imprisoned has changed him physically and psychologically, but he's still a vibrant, interesting demon. From the start, Holly and Will's relationship is complex and fascinating. They need each other, but they also dislike one another – yet there's undeniable chemistry there. I loved watching their relationship develop over the course of
Evernight
. At the risk of repeating myself, the two of them are simply too interesting to resist. There're numerous obstacles – both internal and external – for them to overcome in order to simply survive, never mind be together, and Ms. Callihan kept me guessing at every turn how things would turn out.
There are a number of carefully crafted plot threads in
Evernight
, and Ms. Callihan masterfully weaves them together. In addition to the romance and the problem of Will's altered state, there's a deadly new villain in town who has their sight set on Holly for reasons I won't disclose. If that weren't enough, readers are treated to more of the Nex, assassins, supernatural beings whose abilities we've yet to explore, and the mysterious Adam, who has a problem of his own. Only an author of Ms. Callihan's caliber could put so much in a story and still have it read as smoothly as it does. That being said, I do recommend reading the previous five Darkest London stories (
Firelight
,
Moonglow
,
Winterblaze
, the novella "Entwined," and
Shadowdance
) before beginning
Evernight
. Outside the romance, much of what happens in Will and Holly's book has its roots in events that occurred in previous books. The only downside to reading such an intricately connected series is that I wanted to start the next book,
Soulbound
, immediately upon finishing
Evernight
.
The Darkest London series is a favorite of mine for the simple fact that each book is intelligent, complex, imaginative, sensual, and romantic.
Evernight
continues this tradition and I simply cannot wait to see where Ms. Callihan takes readers next!
FTC Disclosure:
I received this book for free from the publisher in exchange for an honest review. This does
not
affect my opinion of the book or the content of my review.