I fell in love with Anna Campbell's writing when I picked up her debut novel,
Claiming the Courtesan
. Nearly seven years later, I'm still a huge fan and I'm always insanely excited when Ms. Campbell has a new book out. I can't tell you how thrilled I am that Wit and Sin is part of the
What a Duke Dares
blog tour!
What a Duke Dares
is the third book in Ms. Campbell's Sons of Sin series, and you can read my review
here
(spoiler alert: I loved Pen and Cam ;)).
Now on to the good stuff: Q&As with Anna Campbell and a
giveaway
hosted by Ms. Campbell's publisher, Forever!
Q: WHAT A DUKE DARES is the final (that we know of) Sons of Sin story. What can readers look forward to next?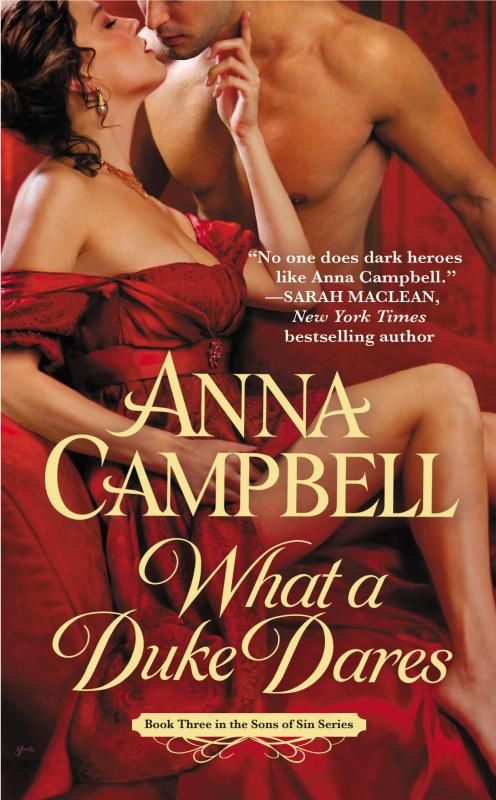 A:
Hi Kimberly! Thanks for having me as your guest today to talk about my latest release, WHAT A DUKE DARES! Love the blog. Actually, there's another story coming in the Sons of Sin series, just to make life complicated. My projected trilogy turned into a quartet. What can I say? I'm a sucker for a single marquess! I found myself increasingly fascinated by Lord Leath who plays a major part in WHAT A DUKE DARES and decided that he needed to get a happy ending (and make up his quarrel with Cam, the hero of Duke in the process). That book is called A SCOUNDREL BY MOONLIGHT and it should be out first half of next year.
Q: Before the Sons of Sin series, your books were all standalones. Do you prefer writing a series over writing a standalone novel?
A:
Actually having been so reluctant to write a series, I have to say I'm loving the experience – hence the extra stories in the Sons of Sin set. It's wonderful to be able to revisit beloved characters and continue their stories through weddings and children and other adventures. It's equally wonderful to introduce secondary characters in earlier books who will then take center stage later on. I'm also enjoying the enriched world building of a series – I can set the scene in one book and then bring it to fruition in the next. That's great fun!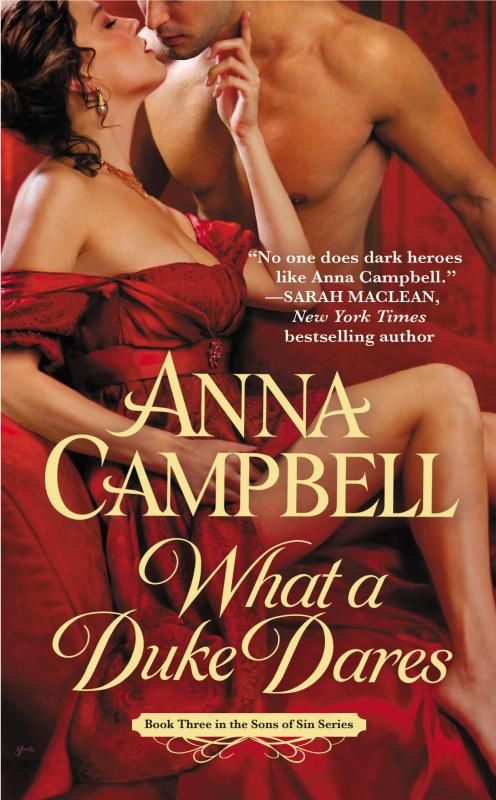 Q: Do you have any favorites of the characters you've written?
A:
Actually I know writers always mention their current book when people ask this question, but REALLY I just love Pen and Cam from WHAT A DUKE DARES. I love that despite their romantic troubles, they never lose sight of the fact that they were friends first and I love how they try to do the right thing, even if everything just explodes into smithereens in spite of their efforts. From earlier books, I must say I have a real fondness for Antonia and Ranelaw from MIDNIGHT'S WILD PASSION.
Q: What's one thing about being an author you wish someone had told you before you were first published?
A:
What a good question. I'm always surprised by how much time I spend NOT writing. Basically if you're a writer, you're running a small business with all that entails. I wish someone had told me to be prepared for that aspect of the writing career.
Q: When you're not writing, what do you like to do?
A:
Like most writers, I'm a voracious reader. At the moment, I seem to be on a mystery kick in between all my lovely romances! I live in a very pretty part of Australia right by the sea so I really enjoy walking in my area and swimming is great when the weather's a bit warmer than it is at the moment. I like to play the piano (very badly). And I love to travel. I'm hoping to get to England next year for a research trip. I haven't been since 2007 and I'm definitely due for another stately home fix.
About What a Duke Dares: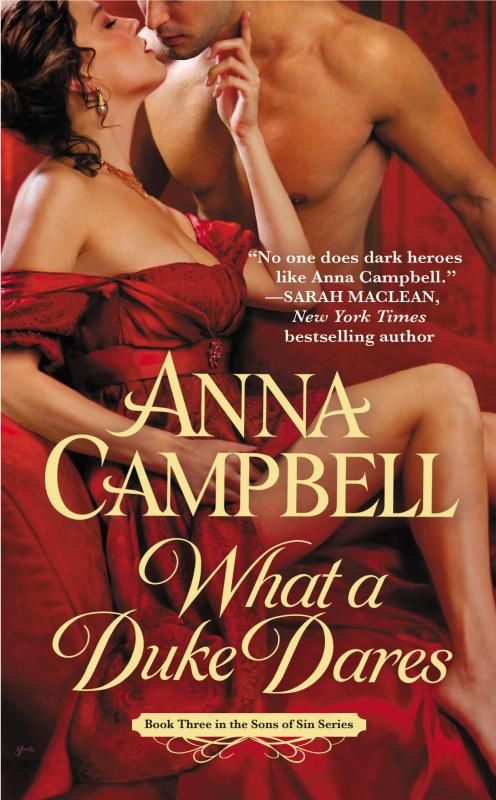 A reputation at risk
What woman in her right mind would say no to marrying the dashing Duke of Sedgemoor? Miss Penelope Thorne, that's who. She's known Camden Rothermere since they were children - and she also knows she'd bring nothing but scandal to his name.
Cam can hardly believe Penelope turned down his proposal. But if she wants to run off to the Continent and set the rumor mill ablaze, he can't stop her. Then her brother's dying request sends him to bring home the one woman he thought he'd finally gotten over.
The only way they'll both get back to London without their reputations in tatters is to pretend they're married during the journey. That means kissing like they mean it and even sharing a bed - until it becomes hard to tell where the game ends and true desire begins...
My Review
|
Amazon
|
B&N
|
BAM!
|
iTunes
About Anna Campbell:
Always a voracious reader, ANNA CAMPBELL decided when she was a child that she wanted to be a writer. Once she discovered the wonderful world of romance novels, she knew exactly what she wanted to write. Anna has won numerous awards for her Avon historical romances including
Romantic Times
Reviewers Choice, the Booksellers Best, the Golden Quill, the Heart of Excellence, the Aspen Gold and the Australian Romance Readers Association's most popular historical romance (twice). Her books have twice been nominated for Romance Writers of America's prestigious RITA Award and twice for Australia's Romantic Book of the Year.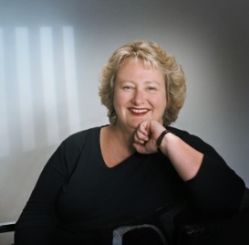 When she's not writing passionate, intense stories featuring gorgeous Regency heroes and the women who are their destiny, Anna loves to travel, especially in the United Kingdom, and listen to all kinds of music. She lives near the sea on the east coast of Australia, where she's losing her battle with an overgrown subtropical garden.
Find Anna Cambpell on the Web:
Website
|
Twitter
|
Facebook
|
Goodreads
Giveaway
Enter here to win a copy of
What a Duke Dares
:
a Rafflecopter giveaway