It's in His Kiss by Jill Shalvis
Series: Lucky Harbor, Book 10
Publisher: Forever
Genre: Contemporary Romance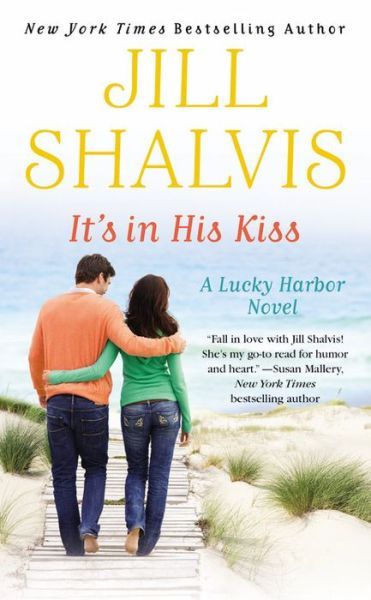 ISBN: 9781455529520
Release Date: August 26, 2014
Source: Publisher
Buy it here:
B&N
Jill Shalvis Reading Order
ONE KISS CAN LAST FOREVER

Becca Thorpe has uprooted her life and escaped to the beach. Now's her chance to get away from city living, throw caution to the ocean winds, and live in the moment. Especially if the moment includes the deliciously sexy surfer she meets shortly after arriving in Lucky Harbor. Something about the dark intensity of Sam's eyes and the thrill she gets at his touch convinces her to stay awhile.

Boatbuilder and investment genius Sam Brody is a self-made man who knows how dangerous it can be to mix business and pleasure. But he can't resist offering Becca a job just to hear her laugh and have her near. Yet when her brother comes to town asking for help, will he tempt her back to her glamorous life in the city? Or do Sam and little Lucky Harbor have a chance to win Becca's heart?
It's in His Kiss
is so much fun! Jill Shalvis's tenth Lucky Harbor novel has all the sparkle, humor, and heart I've come to expect from this series.
Becca is a woman doing her best to start over, and her life in Lucky Harbor is a world away from the life she used to lead. She's a smart, funny, endearing heroine who deserves the love and encouragement she finds in Lucky Harbor. And Sam…oh man, is Sexy Grumpy Surfer a hero to drool over. He's got a severe problem with three very important words, but there's no doubt the man has a heart of gold beneath his sometimes surly exterior. He shows his love for others in the sweetest ways – how could you not adore him? Both he and Becca have ghosts from their pasts to face, and watching them struggle and grow over the course of the story was simply wonderful. As a couple, they're dynamite. They fit one another perfectly, yet the road to happily ever after isn't a smooth one. I loved every up and down of their relationship and honestly, it was lovely to watch their romance unfold.
It's in His Kiss
is the tenth Lucky Harbor novel, but even though past heroes and heroines show up (it
is
a small town, after all), you can read Becca and Sam's book as a standalone. However, this book does kick off the newest trilogy within the series, so be prepared to fall not only for Sam, but his two best friends, Cole and Tanner. It'd be remiss of me not to mention the banter that goes on between these three because I can't count the number of times I smiled when the guys shared the page. But old friendships aren't the only entertaining kind. New friends and neighbors Becca and Olivia (of the upcoming
He's So Fine
) provided some laugh out loud moments of their own.
It's in His Kiss
is as addictive as the ranch popcorn Becca loves so much. It's a bright and bubbly book, but it also has soul. It's impossible to resist Becca and Sam, so don't even try. Sit back and enjoy another fantastic romance from Jill Shalvis. Trust me, you won't regret it.
FTC Disclosure:
I received this book for free from the publisher in exchange for an honest review. This does
not
affect my opinion of the book or the content of my review.