Spells & Stitches by Barbara Bretton
Series: Sugar Maple, Book 4
Publisher: Berkley Trade
Genre: Paranormal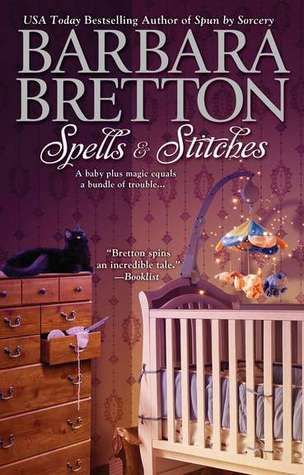 ISBN: 9780425241059
Blue Ribbon Rating: 4.5 out of 5
Original Review Link
Book Purchase Link
For Chloe Hobbs, life couldn't get any better. She's in love with the gorgeous Luke MacKenzie, her knitting shop, Sticks & Strings, is thriving, and her magical hometown of Sugar Maple is doing well after narrowly missing a disaster a few months back. Best of all, Chloe and Luke are expecting a new addition to their family. But being a pregnant sorceress isn't easy. Chloe's little sorceress-to-be is making her powers go haywire and on top of that, Chloe and Luke are stuck with a cantankerous troll who's intent on guarding Chloe until the baby's born. If that wasn't enough, Luke's very human family has discovered that Chloe's expecting, and the soon-to-be-parents have to figure out how to mask Chloe's magical outbursts. It's almost too much for Chloe and Luke to handle…and that's before a dark force intercedes, threatening Chloe, Luke and their baby.
Magic and mayhem are part and parcel of the SUGAR MAPLE series, and author Barbara Bretton makes no exception with SPELLS & STITCHES. I love this zany series and in SPELLS & STITCHES, Ms. Bretton ups the stakes for Chloe, Luke and the readers when it comes to the dark magic in this book. There are few things more frightening than a child in danger, and Ms. Bretton definitely tugs on readers' emotions when Luke and Chloe's baby is threatened. I could not put down SPELLS & STITCHES until I was sure the entire Hobbs-MacKenzie family would be all right.
Though the ominous presence in SPELLS & STITCHES kept me enthralled, the book itself isn't all darkness and danger. As she has in her previous SUGAR MAPLE books, Ms. Bretton keeps the overall tone of the story light. SPELLS & STITCHES feels joyful most of the time, and it really was a delight to revisit the oddball town of SUGAR MAPLE.
SPELLS & STITCHES is the fourth book in the SUGAR MAPLE series, and Ms. Bretton provides enough information that readers new to the series can read this book as a standalone. I will say, however, that my emotional investment in SPELLS & STITCHES stems from reading this book's three predecessors, CASTING SPELLS, LACED WITH MAGIC and SPUN BY SORCERY. I fell in love with Luke and Chloe in those books, and my attachment to them and their growing family only strengthens with SPELLS & STITCHES.
As far as buoyant paranormals go, Ms. Bretton writes the best. I absolutely adored SPELLS & STITCHES, and I hope Ms. Bretton has more adventures planned for Chloe, Luke and baby Laria.
Note:
My review was written for Romance Junkies and is cross-posted here with permission from Romance Junkies.