Wicked Charms by Janet Evanovich and Phoef Sutton
Series: Lizzy and Diesel, Book 3
Publisher: Bantam
Genre: Paranormal Mystery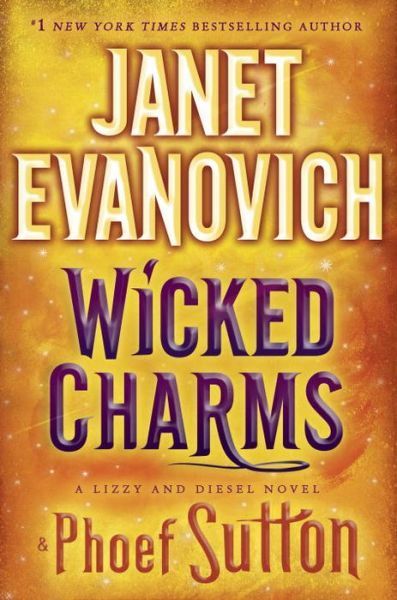 ISBN: 9780553392715
Release Date: June 23, 2015
Source: Publisher
Buy it here:
Amazon
|
B&N
Murdered and mummified nearly a century ago, notorious bootlegger Collier "Peg Leg" Dazzle discovered and re-hid a famous pirate's treasure somewhere along the coast of New England. A vast collection of gold and silver coins and precious gems, the bounty also contains the Stone of Avarice—the very item reluctant treasure seeker Lizzy Tucker and her partner, Diesel, have been enlisted to find. While Lizzy would just like to live a quiet, semi-normal life, Diesel is all about the hunt. And this hunt is going to require a genuine treasure map and a ship worthy of sailing the seven seas…or at least getting them from Salem Harbor to Maine.

Greed is eternal and insatiable, and Lizzy and Diesel aren't the only ones searching for the lost pirate's chest. People who have dedicated their entire lives to finding it are willing to commit murder or make a deal with the devil just to hold the fortune in their hands. One of those people may even be Wulf, Diesel's deceptively charming and enigmatic cousin. Wulf desires the Stone of Avarice. He also desires Lizzy. It's hard to say how far he's willing to go to gain either one.

Wicked Charms is a swashbuckling adventure full of raiders, monkeys, minions, and mayhem. Lizzy and Diesel are going to have to do everything they can to keep their heads above water and hope they're living a charmed life.
Wicked Charms
is a madcap paranormal thrill ride, the likes of which only Janet Evanovich and Phoef Sutton could write. In their third outing, Lizzy and Diesel face more villains, more danger, and more frosting mishaps than ever before, and the result is a zany adventure that's impossible to put down.
Clues leading to another SALIGIA stone (one of seven stones that have the power of the seven deadly sins) have surfaced, so it's up to Lizzy and her particular brand of "Unmentionable" skills to uncover it before it falls into the wrong hands. The Stone of Avarice is now in play, and this time it's not just Diesel's evil cousin Wulf who Lizzy and Diesel have to outwit. The search for the stone involves pirates, corpses, buried treasure, mayhem, cupcakes, and, of course, greed. I will admit that at certain points in the story there seemed to be too many players and the story went a bit too over the top, even by kooky mystery standards. That being said, I still enjoyed Lizzy and Diesel's treasure hunt so much that I devoured
Wicked Charms
in one day.
While the search for the Stone of Avarice takes center stage, that doesn't mean that Lizzy and Diesel themselves are neglected. The chemistry between these two is absolutely fantastic and I loved how things have started to heat up, even though Lizzy and Diesel are courting disaster (aka one of them potentially losing their magic powers) by falling for each other. Lizzy and Diesel are what takes
Wicked Charms
to the next level, adding heart to the frothy fun. And speaking of fun, all of Lizzy's friends, a couple of clever animals, and one or two not-quite-inanimate objects bring laughs to the story and make you wish you were part of Lizzy's crew.
Wicked Charms
is the third book in the Lizzy and Diesel series, and though it hits the ground running, there is enough information in the story for those who haven't read
Wicked Appetite
or
Wicked Business
to follow along. The only downside to the book was that it stoked the fires of reader greed – I want to dive into the next Lizzy and Diesel adventure as soon as possible. I absolutely adored
Wicked Charms
– it's the perfect summer read!
FTC Disclosure:
I received this book for free from the publisher in exchange for an honest review. This does
not
affect my opinion of the book or the content of my review.