Second Chance Summer by Jill Shalvis
Series: Cedar Ridge, Book 1
Publisher: Forever
Genre: Contemporary Romance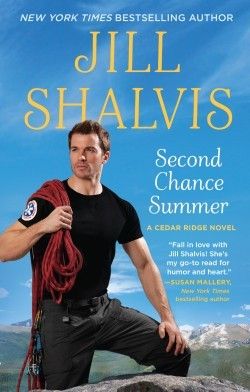 ISBN: 9781455586738
Release Date: June 30, 2015
Source: Publisher
Buy it here:
Amazon
|
B&N
Jill Shalvis Reading Order
Cedar Ridge, Colorado, is famous for crisp mountain air, clear blue skies, and pine-scented breezes. And it's the last place Lily Danville wants to be. But she needs a job, and there's an opening at the hottest resort in her hometown. What has her concerned is the other hot property in Cedar Ridge: Aidan Kincaid-firefighter, rescue worker, and heartbreaker. She never could resist that devastating smile…

The Kincaid brothers are as rough and rugged as the Rocky Mountains they call home. Aidan has always done things his own way, by his own rules. And never has he regretted anything more than letting Lily walk out of his life ten years ago. If anyone has ever been in need of rescuing, she has. What she needs more than anything are long hikes, slow dances, and sizzling kisses. But that can only happen if he can get her to give Cedar Ridge-and this bad boy-a second chance…
Get ready to fall in love with the Kincaid family! Jill Shalvis's
Second Chance Summer
is sensual, fun, and will leave you salivating for the next Cedar Ridge story.
Aidan is a firefighter, works Search and Rescue, and also helps manage his family's resort. The man is sexy as hell and a rescuer through and through. He's also completely head-over-heels for Lily, and has been for years. She's the one woman he could never forget and now that she's back in town, he's not about to let her slip through his fingers a second time. Lily is far more gun-shy than Aidan. Tragedy made her flee Cedar Ridge years ago and she only plans to come back until she can find a job elsewhere. Falling for Aidan – again – is not something she wants, but it's inevitable. The two of them have fantastic chemistry and it's easy to see that they're made for each other. Their love story has all the heat, humor, and heart I've come to expect from Ms. Shalvis's romances and I can't count the number of times Lily and Aidan made me smile. Their pasts have done a number on them, but watching them heal as they fall in love is part of what makes
Second Chance Summer
so engaging.
Romance aside, the entire Kincaid crew will grab your heart and make you want to move to Cedar Ridge. Aidan and his siblings bicker and tease, and their hijinks are sure to make readers laugh. But most importantly, every single one of them has the others' backs, and the love they all have for each other is one of the highlights of
Second Chance Summer
. There's a lot to love about Ms. Shalvis's new world of Cedar Ridge, and I know I'll be revisiting Aidan and Lily multiple times as I await Hudson Kincaid's book,
My Kind of Wonderful
.
FTC Disclosure:
I received this book for free from the publisher in exchange for an honest review. This does
not
affect my opinion of the book or the content of my review.