Simply Irresistible by Kate Pearce
Series: House of Pleasure, Book 2.5
Publisher: Kensington
Genre: Erotic Historical Romance with M/M and Ménage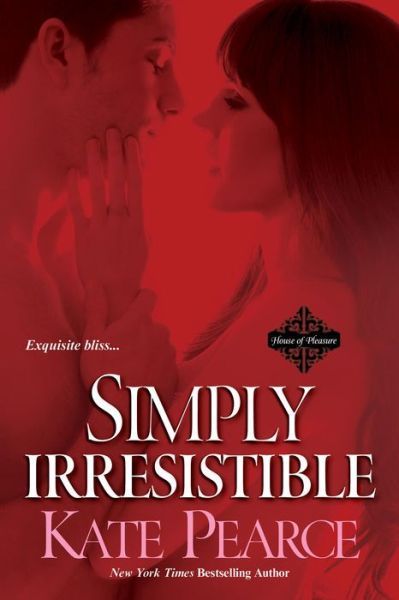 ISBN: 9781617736971
Release Date: June 30, 2015
Source: Publisher
Buy it here:
Amazon
|
B&N
Kate Pearce Reading Order
IMPOSSIBLE
No one can deny the passion Abigail Beecham feels for Peter Howard. Not Peter, not Abigail, and, unfortunately, not Abigail's husband James, a man with no interest in his wife or the society he long ago left behind. But despite longing for Peter, Abby cannot continue their illicit affair—not when her young son's future hangs in the balance.

INSATIABLE
Peter knows well that many things are sweeter when protracted, but what he wants from Abby goes beyond ordinary desire. He wants her to himself, to devote his entire being to making her wildest dreams come true. And so he turns to his oldest friend, Lord Valentin Sokorvsky, and Val's wife Sara, to abet his cause. Now these wanton friends are banded together for love, for pleasure, and for happily, wickedly, ever after…
Kate Pearce writes some of the best and hottest erotic historical romance and I absolutely love the House of Pleasure series. I've come to expect no-holds-barred passion and eroticism that blows past society's rules the minute the doors are closed from this series and Ms. Pearce definitely delivered. Yet while the sex scenes are red hot, it has always been the House of Pleasure characters themselves that made the books truly memorable. That's why I couldn't wait to get my hands on
Simply Irresistible
.
At the end of
Simply Sinful
, the second House of Pleasure novel, I had lingering questions about how Abby and Peter's arrangement would work in the long term.
Simply Irresistible
provides the answers, but of course not without some drama. For me, it was a pleasure to see Abby and Peter get the happy ending they deserve, and it was also nice to see Peter find his footing as his own man, without Abby and Val around. However, the story was not without its flaws. For much of the book, Peter and Abby are passive participants in their own life. If not for the outlandish machinations of others, I doubt they would have made it as a couple, which troubles me. And Abby, who I adored in
Simply Sinful
, has turned into a martyr who also decides she knows what's best for Peter, something that grated on my nerves.
I wanted to love
Simply Irresistible
, and it was by no means a bad book – it simply wasn't all that I had hoped for. The things that I loved about the book often had nothing to do with Abby and Peter as a couple. The passion between them is lacking at times, something I'd never have expected. The runaway star of the show is also not our hero or heroine, but Val, Peter's best friend and lover. The passion between Val and Peter is insanely hot and Ms. Pearce does a great job of balancing their love for one another with their obvious love and devotion to Sara and Abby. I only wish Abby and Peter's relationship had felt as solid as Peter and Val's.
Simply Irresistible
contains twists and turns, drama and desire. The end result is a satisfying story, one that ties up loose ends from
Simply Sinful
(a book I highly recommend reading before diving into this novella). Though I was left feeling a bit let down by Abby, seeing Peter and Val's relationship come into its own made
Simply Irresistible
an enjoyable read.
FTC Disclosure:
I received this book for free from the publisher in exchange for an honest review. This does
not
affect my opinion of the book or the content of my review.