Straddling the Line by Jaci Burton
Series: Play-by-Play, Book 8
Publisher: Berkley Trade
Genre: Contemporary Romance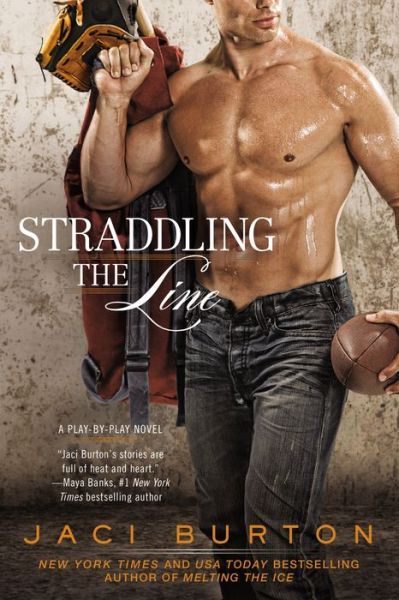 ISBN: 9780425262993
Release Date: July 1, 2014
Source: Publisher
Buy it here:
Amazon
|
B&N
Trevor Shay has it all—a successful football and baseball career, and any woman he wants. But when he finds out his college mentor's daughter is in trouble, he drops everything to come to her aid.

Haven Briscoe has finally landed a dream job as a sportscaster for a major network. But she hasn't been able to move past the recent death of her beloved father, and it's affecting her career. A plum assignment following the daily life of sports superstar Trevor Shay might be just the inspiration she needs…

Trevor will do anything to spark life back into Haven, including letting her into every aspect of his world. The chemistry between them flames higher than one of Trevor's home runs and faster than his dashes to the end zone. But as they grow closer, Haven stumbles onto Trevor's closely guarded secret, one he's hidden his entire life. And despite his protests, now it's Haven's turn to put everything on hold to help Trevor. Will he let her in and trust her with a secret that could blow his professional and personal world apart?
Straddling the Line
is another home run for Jaci Burton! Whether it's on the field or between the sheets, there's plenty of action in this eighth Play-by-Play novel and the pages practically speed by.
Haven is a woman lost. The death of her father – who was also her best friend and confidant – hit her hard and she can't seem to work up the energy to keep her life and blossoming career together. When she receives the assignment to shadow and interview Trevor, it's the beginning of Haven's return to herself. With Trevor, Haven comes alive and it was lovely to watch her learn to cope with her grief and fully live life once more. And speaking of Trevor, on the surface the man seems to have it all – charm, good looks, and not one but two superstar careers in sports. He works his butt off juggling professional baseball and football careers, but nevertheless all isn't perfect for the powerhouse athlete. He's got a secret, one that (to him at least) could shatter his world if it were known. He's never before risked letting anyone getting close enough that they'd learn the truth, but having Haven in his life once more changes all that.
As individuals, Haven and Trevor are solidly likeable, but as a couple they're stellar. The sparks that immediately fly upon their renewed connection are red hot, but there's an easiness to their burgeoning relationship that comes from them having known one another in college. I love how organically their relationship develops and when things heat up, watch out! Ms. Burton knows how to steam up a page. There's not a lot of drama to Haven and Trevor's relationship (their personal demons are significant in their own right), but what there is is loaded toward the end.
Baseball and football are the other stars of
Straddling the Line
. Ms. Burton's knowledge of and love for sports is apparent in this story and I love the time and attention she gave to Trevor's dual career. As much as I like Trevor and Haven, I will admit the reason I picked up
Straddling the Line
was because I wanted to read about a hero who plays not one but two sports professionally. Ms. Burton doesn't skimp on the sports in this sports romance, beautifully blending the two elements into one fantastic story.
While
Straddling the Line
is the eighth Play-by-Play novel, it can be read as a standalone. Numerous past Play-by-Play heroes and heroines play small supporting roles in the book, which is a treat for fans of the series and a perfect teaser for those new to the books. Whether you've got a thing for professional athlete heroes or simply love a hot contemporary romance,
Straddling the Line
is the book for you.
FTC Disclosure:
I received this book for free from the publisher in exchange for an honest review. This does
not
affect my opinion of the book or the content of my review.