Shelter Me by Catherine Mann
Series: Second Chance Ranch, Book 1
Publisher: Berkley
Genre: Contemporary Romance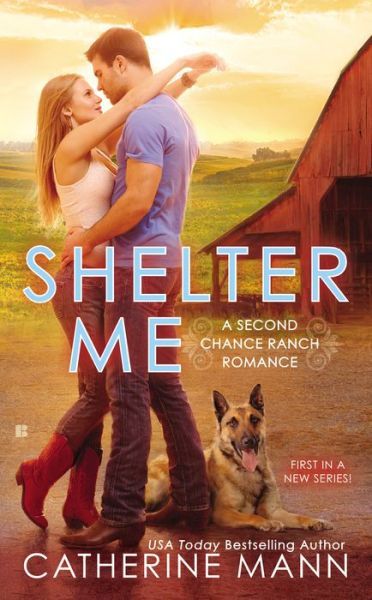 ISBN: 9780425269886
Release Date: August 5, 2014
Source: Publisher
Buy it here:
Amazon
|
B&N
Nestled in the sunny fields of Tennessee lies the McDaniel family's Second Chance Ranch Animal Rescue. Two new arrivals are on their way, but only one is the four-legged kind.

Staff Sergeant Mike Kowalski wants only one thing after he gets home from Iraq: to sleep in a king-sized bed with clean sheets. But first, he has to hand off his fallen commander's dog, Trooper, to his family without handing off his heart to Sierra…

Sierra McDaniel needs a break. Her family life is crazy, and when she's not mucking out kennels, she's slogging through grad school. Sierra certainly doesn't want another dog, especially one that reminds her of her father. And she definitely doesn't want to see Mike with that charming smile of his…

But Trooper has a mission of his own. Before too long Mike is moving to the ranch to lend a hand—and hoping for his own second chance with Sierra.
Shelter Me
will break your heart a thousand times, then put it back together in this emotional, engaging story. Catherine Mann doesn't shy away of bringing a heavy dose of reality to this first Second Chance Ranch novel, and that makes
Shelter Me
stand out from the crowd.
Sierra and Mike are two people who clearly love one another, but who can't seem to make their chosen life paths mesh. Still, when Sierra's father is killed in action and Mike brings Trooper home to her to fulfill the colonel's last request, neither Mike nor Sierra can resist one another. It's easy to like Sierra and Mike – they're smart, extremely hardworking people with generous hearts. Their love story is filled with minor ups and downs, and though satisfying, this is not where
Shelter Me
shines.
Shelter Me
is at its strongest when it's tugging on your heartstrings, and it'll do so often. Ms. Mann skillfully blends heartbreak with hope and I truly appreciated that she managed to make me cry more than once but never overplayed any particular tragic element of the story. Though Sierra and Mike are ostensibly the center of
Shelter Me
, it's the rest of the McDaniel family – those on two legs and four – who steal the show. Sierra's mother Lacey is a military wife of incredible strength and compassion. But Lacey is running on fumes, trying to save as many animals as she can while coping with the loss of her husband and the dreams of their future together, as well as taking care of her Alzheimer's-stricken father-in-law and a teenage son she can no longer reach. Each one of these things would be enough to flatten a person, but Lacey holds it together (sometimes by the skin of her teeth) with a determination I admired. My favorite part of
Shelter Me
was watching Lacey's character develop, and I could go on about her and the rest of the McDaniels, but I don't want to spoil the journey for readers.
It's impossible to talk about
Shelter Me
without mentioning the Second Chance Ranch. Ms. Mann made me want to go out and adopt as many rescue animals as I possibly could after finishing this story, and I'm pretty sure anyone else reading this book will feel the same. There's no shying away from the harsh realities the people who run shelters face, making me admire those dedicated souls all the more. I'm pretty sure I clung to my own rescue cat a bit more after finishing this book, so prepare to have a tissue and your pet nearby while reading
Shelter Me
.
Though there are plenty of times
Shelter Me
will make you tear up, the book does have a satisfying ending. I'm definitely going to be reading the next Second Chance Ranch story,
Rescue Me
, and I really hope there's a book for Lacey McDaniel in the future.
FTC Disclosure:
I received this book for free from the publisher in exchange for an honest review. This does
not
affect my opinion of the book or the content of my review.