The Inheritance by Olivia Mayfield
Publisher: InterMix
Genre: Mystery Romance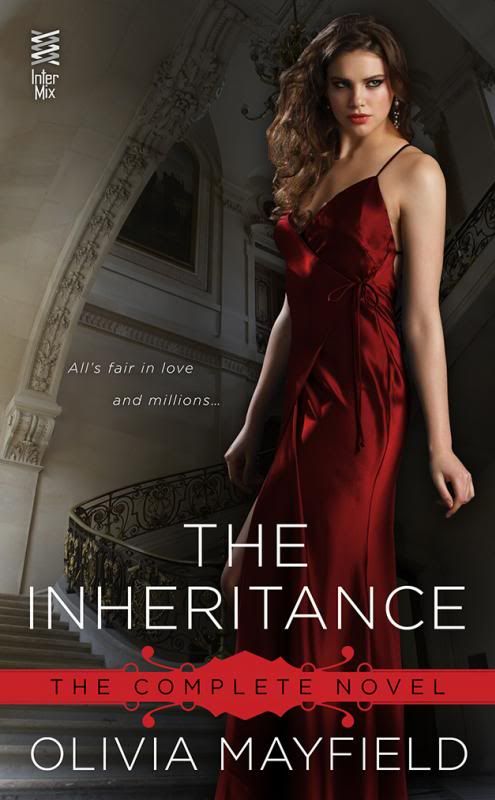 ISBN: 9780698182592
Release Date: July 15, 2014
Source: Publisher
Buy it here:
Amazon
|
B&N
Maggie Willings knew that returning home for her estranged grandfather's funeral would not be easy, but she never expected the reading of his will to be the most difficult part. It turns out her grandfather named four people beneficiaries to his vast estate—Maggie, her brother Robert, her ex-boyfriend Andrew, and her grandfather's far-too-young girlfriend Bethany. But only one of them will win his millions: whoever finds out the truth about what happened to Maggie's younger sister Cassandra, who vanished over eight years ago.

As her grandfather's strange challenge pits Maggie against those nearest to her, she's reluctant to drag up painful memories of her sister and distracted by a lingering attraction to Andrew. But as she delves deeper into her sister's mysterious vanishing, she begins to discover that each of the contestants has dangerous secrets to hide—and with ten million dollars on the line, no one, not even those she loves most, can be trusted…
Everyone has a secret to be uncovered in
The Inheritance
. Olivia Mayfield's debut novel is a well-crafted mystery that will have you reading late into the night.
Maggie is the heart and soul of
The Inheritance
. She's a smart, focused woman who's done her best to put her life back together after the disappearance of her younger sister nearly tore apart her family. Her grandfather's will drags Maggie right back into the chaos as she's forced to confront broken friendships, shattered family members, and an old love who still has the power to make her emotions go haywire. Maggie putting the pieces of her old life back together is every bit as important to the story as her unraveling the mystery of what happened to Cassandra. Ms. Mayfield does a fantastic job of weaving Maggie's developing relationships (both romantic and platonic) in with the overarching mystery of the story. I loved watching Maggie peel back the layers of everyone's character even as she started to gather evidence of what truly happened to her sister. And speaking of Cassandra's disappearance, Ms. Mayfield doesn't make the quest for answers easy on Maggie. Twists and turns await readers, some of which will be met with glee, others with a heavy heart. It's difficult to talk about a story like this without ruining the mystery, so I'll leave it at that. A dash of romance in the form of an old flame ups the stakes for Maggie and rounds out the story beautifully.
The Inheritance
is interesting, energetic, and wholly entertaining. This story will hook you from the very first page and not let you go until, like Maggie, you have all the answers. I thoroughly enjoyed
The Inheritance
and I look forward to reading more of Ms. Mayfield's work!
Note:The Inheritance
was previously published as a six part serial.
FTC Disclosure:
I received this book for free from the publisher in exchange for an honest review. This does
not
affect my opinion of the book or the content of my review.