Risky Game by Tracy Solheim
Series: Out of Bounds, Book 3
Publisher: Berkley
Genre: Contemporary Romance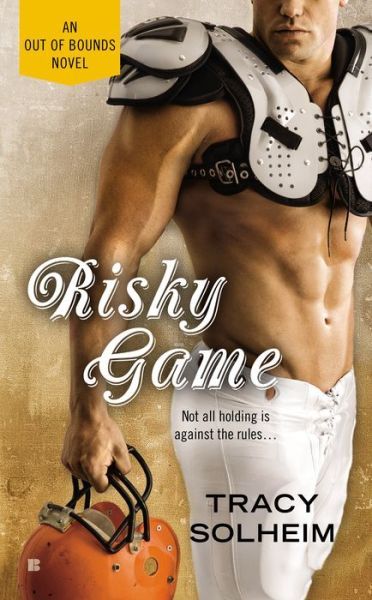 ISBN: 9780425266656
Release Date: May 6, 2014
Source: Publisher
Buy it here:
Amazon
|
B&N
Baltimore Blaze tight end Brody Janik is a natural-born football star. At twenty-seven, his record-breaking athletic performance and his cover-boy good looks have turned him into a household name. But Brody's hiding a major secret behind his charming public persona: a health condition that may cut his career short.

PhD candidate Shannon "Shay" Everett works multiple jobs to put herself through school—including an unpaid internship with the Blaze training department. Strapped for cash, Shay answers the call of an NFL gossip blogger to uncover personal details about the Blaze players. Sneaking into the locker room one night, she gets entangled in Brody's secret...and swept up by his charm.

Brody isn't sure what to make of the gawky girl with the whiskey eyes, especially when he discovers she was snooping. His first instinct is to turn her in as a snitch, but she could destroy him by sharing his secret. Instead, he decides to keep her close…perhaps closer than either of them originally intended...
Tracy Solheim proves that opposites attracting can be a whole lot of fun in
Risky Game
. Shay Everett and Brody Janik come from two different worlds, but when circumstances (aided by a bit of blackmail) force them to come together, things heat up. Shay is a hardworking heroine if you've ever seen one. She's got a sharp mind and uses it to push herself to the limits trying to get her PhD while holding down multiple jobs so she can help out her family. When she learns Brody's secret, she doesn't turn on him for cash, but rather uses her education and training in order to help him. What she doesn't expect is to fall for the privileged football star, but he's oh-so hard to resist.
Ah, Brody. The handsome tight end charmed me with his easygoing nature in the previous Out of Bounds novel,
Foolish Games
. Some of the shine wears off of him in his own story (particularly when he lets his "inner caveman" out), but the good-natured golden boy I first adored is still there. In
Risky Game
he's stressed and working hard to keep his medical condition a secret. Doing so is reckless, but Brody really doesn't know who he is outside of football, and he doesn't want to find out. Trusting Shay is something he doesn't want to do – he's been burned by women selling him out in the past – but he doesn't have much of an option. His attraction to her makes things even more complicated, but Brody's not one to back down from a challenge. A few over the top moments aside, their sometimes tumultuous romance was engaging and kept
Risky Game
moving at a quick clip.
Risky Game
is the third Out of Bounds novel, but it can be read as a standalone. Shane, Carly, Will, and Julianne (of
Game On
and
Foolish Games
) do have significant supporting roles, which will surely please fans of the series. Ms. Solheim also introduces readers to Brody's sister Bridgett, an endearing, tough-as-nails lawyer who hopefully has a story coming soon. There are some loose ends left dangling at the end of
Risky Game
, and I hope they'll be tied up in future books.
Sports romances are becoming more plentiful, making it hard to stand out from the crowd, but Ms. Solheim shines in this area. Her knowledge of the game makes
Risky Game
a true sports romance, one where the action on and off the field comes alive and adds depth to the story. So please, Ms. Solheim, keep those Out of Bounds books coming!
FTC Disclosure:
I received this book for free from the publisher in exchange for an honest review. This does
not
affect my opinion of the book or the content of my review.