A Reason to Love by Alexis Morgan
Series: Snowberry Creek, Book 3
Publisher: Signet
Genre: Contemporary Romance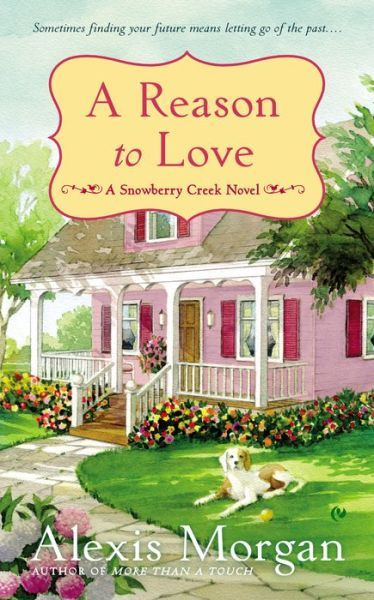 ISBN: 9780451417732
Release Date: May 6, 2014
Source: Publisher
Buy it here:
Amazon
|
B&N
All roads lead home in Snowberry Creek...

After a devastating tour in Afghanistan, all Spencer Lang wants is for life to return to normal. But when he rides into his hometown on his Harley, he learns that his friends and family have tried to move past their heartbreak since he was reported killed-in-action—and the woman he loved is about to marry his best friend. Now, all he can do is pick up the pieces of his life.

Years ago Melanie Wolfe left town, with no intention of ever coming back. But when her father dies, she reluctantly returns home to salvage the family business. Reuniting with Spencer, her high school crush, complicates the already thorny situation, especially when she begins losing her heart to him all over again.

As Spencer and Melanie work to restore order to her family's company, two damaged hearts face an unexpected new future that is filled with possibilities...and love.
A Reason to Love
is a great mix of heartbreak and hope. Alexis Morgan has woven a tale of two people finding love and home after devastating losses in this third Snowberry Creek novel.
Melanie's family has long been a major employer in Snowberry Creek, but she herself wanted to break free of the restraints her last name put on her. Now that her father has died, she finds herself back at home, trying to save the family business from ruin. I adored Melanie – she has a good heart and works herself to the bone to help others. Romance aside, I really liked that she found someone she could lean on in Spence. He's a former soldier and POW who returns home only to find everyone thought he was dead. Spence has to cope with PTSD in addition to the hit that the life he had mapped out for himself no longer exists. His friends and comrades are now living in the house that was once his and his sergeant is marrying the woman Spence once planned to wed. It's a lot to handle, and I appreciated that Ms. Morgan
didn't
let Spence cope perfectly. He makes mistakes, hurts those who love him, and it grounds the story in reality, making Spence's character arc that much more satisfying. Melanie is key to Spence wanting to start the healing process, and the way they fall in love as they work together is simply lovely. Both Melanie and Spence struggle to find their place in their new lives, but they do so and it was a joy to see them find what it is they wanted and needed in Snowberry Creek and with each other.
A Reason to Love
is the third full-length book in the Snowberry Creek series, and having not read
A Time for Home
and
More Than a Touch
I can safely say new readers will have no problem enjoying Spence and Melanie's story. In fact, not having an emotional attachment to Spence's friends probably helped me see Spence's side of things easier. That being said, I'll definitely read Nick and Leif's books and I'm hoping the Snowberry Creek series continues even though the three former soldiers have found happiness (cue my adoration of Liam the bartender ;)). All in all, I thought
A Reason to Love
was an enjoyable, heartwarming story and I'm looking forward to spending more time in Ms. Morgan's Snowberry Creek.
FTC Disclosure:
I received this book for free from the publisher in exchange for an honest review. This does
not
affect my opinion of the book or the content of my review.