I became an instant fan of Macy Beckett's after reading her first Dumont Bachelors book,
Make You Mine
. I'm so thrilled I got to interview Ms. Beckett and talk about this fantastic series.
Make You Mine
released yesterday, May 6th, and you can check out my review of it
here
.
If you want to skip to the cool stuff, scroll down to see my Q&A with Macy Beckett, learn a bit more about her newest release, and enter for a chance to win a copy of
Make You Mine
provided by Ms. Beckett's publisher, Signet! The
giveaway
is for U.S. readers, and to enter, simply comment on this post with your name and email address (so I can contact you for your mailing address if you win) by 11:59PM PST Friday, May 9th.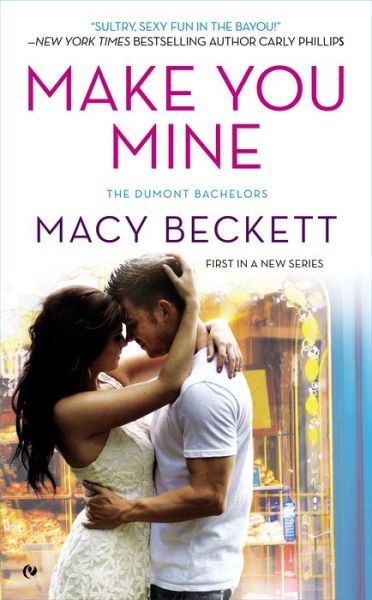 Q: What inspired you to write the Dumont Bachelors series?
A:
Years ago, my agent suggested that I set a new series in New Orleans, and when I flew down there for research, I fell in love with the area—especially the bayou. I knew when I returned home that the series would need to include at least three things: voodoo, riverboats, and really good food!
Q: There's a dash of good old fashioned voodoo in MAKE YOU MINE. Will we be seeing more magic in the series?
A:
Oh, absolutely. Devyn and Beau's story is next in MAKE YOU REMEMBER (November 2014). Even though Devyn is a believer in the curse, that won't make it any easier for her to break.
Q: How many books do you have planned for the Dumont Bachelors series? (I admit, this question may be a roundabout way of asking if Alex and Ella-Claire will get a book :)).
A:
Haha! You don't have to be sneaky about it. Feel free to ask me anything.
The future of the Dumont Bachelors series is somewhat dependent on sales. After all, publishing is a business, and I have to spend my (very limited) time writing the projects that are likely to generate the most income. But if there is another book, it will be Alex and Ella-Claire's.
Q: Do you have any favorites of the characters you've written?
A:
I really love Allie Mauvais, the heroine in MAKE YOU MINE. She's got such a big heart, and that shows through her interactions with others.
Q: When you're not writing, what do you like to do?
A:
Of course I'm a big reader, but on nights when I'm too mentally exhausted for a book, I enjoy watching Netflix in bed. There are so many great shows I've recently discovered, like "Orange is the New Black" and the "Roswell" series from the 90's.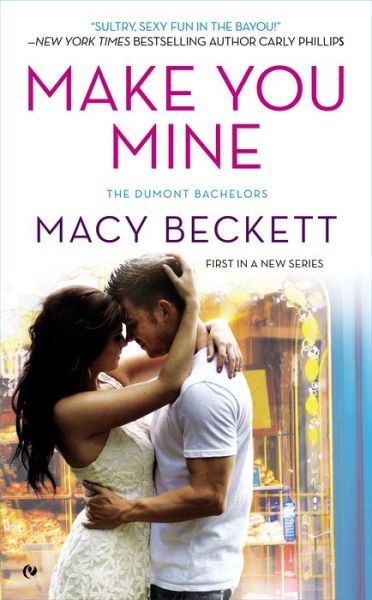 About Make You Mine:
A girl like her comes around once a century…
For ninety-nine years, every man in the Dumont family has remained a perpetual bachelor. Residents of Cedar Bayou, Louisiana, whisper about a voodoo hex cast upon the family, sabotaging each man's chance at marriage. In truth, the Dumont men have their own player personalities to blame, and Marc is no exception. As captain of his family's riverboat, he's broken hearts up and down the Mississippi. That is, until his high school crush strolls onboard...
Allie Mauvais rocks the boat when she fills in as pastry chef. She hasn't seen Marc since senior year, when rumors flew that her great-great-grandmother was the one who cursed the Dumonts. After two weeks on the water, neither can deny the attraction that still burns between them. But to truly reach Marc's heart, Allie must show him that the hex is all in his head and it'll take more than her mouthwatering sweets to prove it. Will Allie's love be enough to finally make Marc hers?
My Review
|
Amazon
|
B&N
|
IndieBound
About Macy Beckett:
Instead of a compulsive overeater, I call myself a compulsive over-reader, because my appetite for books is insatiable. While I enjoy all genres of fiction, I'm always drawn to romantic plots. There's no substitute for a happy ending, and let's face it: I'm in love with love!
A former military brat, I like to say I grew up everywhere. I graduated from high school in Munich (Go Mustangs!) and went on to earn a BA in English from Texas State University and a teaching license from East Carolina University. I taught middle school for nine years before "retiring" to write romance, and after residing in eleven different states, I finally abandoned my nomadic lifestyle.
Now I live in the heart of Ohio with my very patient husband—who kindly tolerates my neglect while I'm penning a new book—and our three spirited children, who aren't so easily placated. My work is represented by the fabulous Nicole Resciniti of the Seymour Agency.
http://macybeckett.com/
Don't forget about the giveaway hosted by Signet! Simply leave a comment on this post (with your email address) before 11:59PM PST Friday, May 9th and you could win a copy of Make You Mine (U.S. readers only, sorry)!