Secrets of Seduction by Nicole Jordan
Series: Legendary Lovers, Book 3 / Paradise, Book 5
Publisher: Ballantine Books
Genre: Historical Romance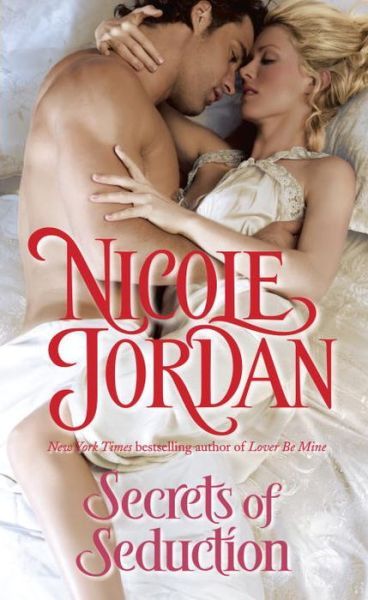 ISBN: 9780425259771
Release Date: April 29, 2014
Source: Publisher
Buy it here:
Amazon
|
B&N
The most charming Wilde cousin, Lady Skye has secretly loved the enigmatic Earl of Hawkhurst since girlhood, long before the tragedy that left him scarred both physically and emotionally. When Skye learns that the celebrated hero has returned to England from his self-imposed exile to make a cold marriage of convenience, she brazenly plants herself on his castle doorstep, determined to convince Hawk that she alone is his true mate and destiny.

An elite member of the Guardians of the Sword, Hawk has vowed never again to risk the pain of loving—but that's before he deals with the most enchanting, annoyingly persistent seductress he's ever encountered. One night of blazing passion leaves him impossibly torn. Will Hawk choose duty over love, or will he open his heart and let Skye's healing light penetrate his darkness?
Beauty and the Beast
lands in Regency England in the latest Wilde family adventure.
Secrets of Seduction
is a sensual, fast-paced story that blends author Nicole Jordan's Legendary Lovers and Paradise series. Liking both series as much as I do, I had high hopes for Skye and Hawk's story. Yet while I did enjoy
Secrets of Seduction
, the story was missing Ms. Jordan's usual spark.
Skye Wilde has always been the least brazen member of her family, but in
Secrets of Seduction
she sets out to seduce the man she's had a crush on since she was thirteen. Hawk is a widower, scarred inside and out thanks to the fire that claimed the life of his wife and child. After years of being an agent for the Guardians of the Sword, he has returned to England in order to marry the niece of the Guardians' leader so that he may become the head of the league. What he doesn't count on is Skye bursting into his home in the middle of a storm and turning his life upside down. Sparks fly between Skye and Hawk almost immediately, but he's determined to do his duty and pushes her away, even though he desires her. Skye is equally determined to make him fall in love with her, and urges Hawk to help her find her uncle's lost true love as a way for them to spend time together (while helping her uncle, of course). Ms. Jordan's signature heat is well at play in this story, and on one level, Skye and Hawk work. Their explosive desire for one another and developing romance kept me engaged in
Secrets of Seduction
. Still, I couldn't help but feel a bit disappointed in the story. I never connected with either Skye or Hawk and the Skye Wilde of this story isn't the same Skye Wilde I had adored in the first two Legendary Lovers books. She was a bit selfish and even slightly calculating, and neither of those traits appealed to me. There could be an argument that her actions and planning were for the greater good, but ultimately Skye simply wasn't my favorite kind of heroine.
Secrets of Seduction
is the third book in the Legendary Lovers series and the fifth book in her Paradise series, but it can easily be read as a standalone. That being said, I loved getting closure on the Paradise series, and my favorite moments of the book were when Skye's family members showed up. I truly adore the Legendary Lovers series –
Princess Charming
and
Lover Be Mine
charmed the heck out of me – so even though I was a bit let down by
Secrets of Seduction
, I'm still incredibly eager to read the next Legendary Lovers book!
FTC Disclosure:
I received this book for free from the publisher in exchange for an honest review. This does
not
affect my opinion of the book or the content of my review.