I tend to fly my fangirl flag pretty high, so if you're a regular visitor to Wit and Sin then you probably know I'm a huge
Elle Kennedy
fan. Her stories range from insanely erotic to dark and gritty and everything in between.
Midnight Pursuits
is Ms. Kennedy's latest release and the fourth book in her Killer Instincts (romantic suspense) series. My review of
Midnight Pursuits
can be found
here
, but what's even more exciting is I got to sit down and interview Ms. Kennedy!
Scroll down and see what Ms. Kennedy has to say about the Killer Instincts series, her sexy-as-sin characters, and writing. And for US readers, Ms. Kennedy's publisher is doing a
giveaway
! The prize is the first three Killer Instincts novels,
Midnight Rescue
,
Midnight Alias
, and
Midnight Games
. To enter, simply comment on this post with your name and email address (so I can contact you for your mailing address if you win) by 11:59PM PST Friday, April 4th.
Q: The Killer Instincts series is darker and grittier than a lot of your other books. What inspired you to write the series?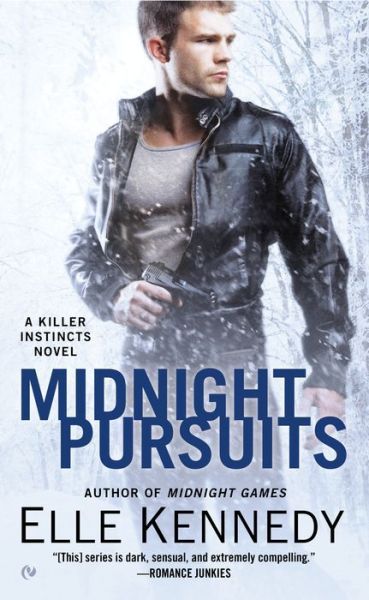 A:
Well, first off, I'm a big fan of romantic suspense. As a reader, I devour RS novels (Iris Johansen in particular!), and it's always been my first love, writing wise. I knew I wanted to write a RS series, but I wanted it to be different from my light, sexy contemporaries. I love writing dark and gritty, and the Killer Instincts series fits that to a T.
Q: Every relationship in the Killer Instincts series has a different dynamic. In MIDNIGHT PURSUITS you pair up Ethan, a dangerous mercenary with a boy-next-door vibe, with Juliet, a guarded former thief on a quest for vengeance. What did you enjoy writing the most when it came to Ethan and Juliet as a pair?
A:
The good guy/bad girl angle! Ethan is so darn sweet, and I knew he couldn't end up with someone as sweet as him. When I introduced Juliet in Midnight Games, I realized she was the perfect woman for him. She's dangerous, impulsive and sarcastic, and from the moment they were on the same page, the sparks started flying. That's when I knew they HAD to get their own book!
Q: With each Killer Instincts book you've given more insight into the complex relationship between Noelle and Jim Morgan. Any hints on what's in store for these two?
A:
Well…I mean, they hate each other, so maybe one of them will finally man up and kill the other? Or maybe they'll wind up in bed? Who knows…
Q: You've said that the next book, MIDNIGHT ACTION, is Noelle's story. Which other mercenaries and chameleons/assassins do you have books planned for?
A:
All of them! Derek "D" Pratt is one of my favourites, and I already have his story in mind. Sullivan and Liam are a lot of fun too, and you'll start to see them in future sub-plots. And Noelle's operative Bailey will be popping up soon too…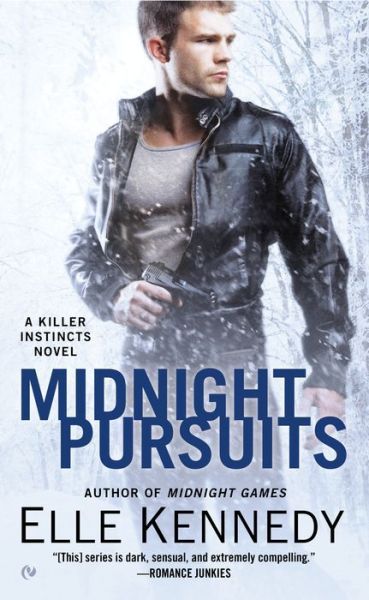 Q: Out of all your books, do you have any favorites of the characters you've written?
A:
Oh gosh. I love them all. But if I have to play favourites…I'd say Noelle for Killer Instincts, and Dylan Wade for the Out of Uniform series. (those two couldn't be more different! I mean, Dylan is the most charming man on the planet, and Noelle is just terrifying)
Q: What's one thing about being an author you wish someone had told you before you were first published?
A:
That it's a JOB. Even on the days when I don't feel like writing (and there are plenty of those) I have to sit down at my computer and force myself to work, just like any other job. It's not all fun and games, especially when you're drowning in deadlines and just want to take a long break!
Q: When you're not writing, what do you like to do?
A:
Read. Garden. Play with my dog. See friends. Marathon TV shows that I don't have time to watch live. Play board games.
I'm kind of a dork, if I'm being honest.
About Midnight Pursuits: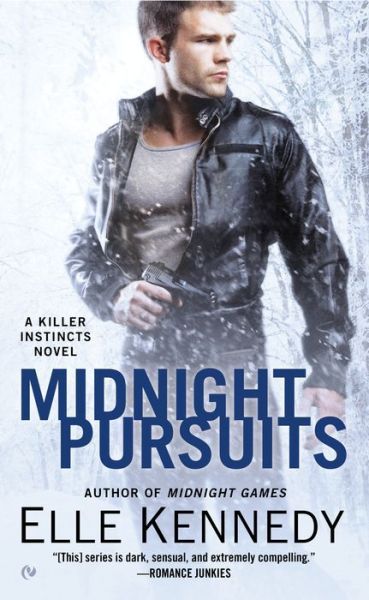 Her job is to stay hidden.

Too bad he can't take his eyes off her.
Soldier-for-hire Ethan Hayes is the youngest member of an elite mercenary team. While he may be affectionately nicknamed the rookie, the skills Ethan honed as a Marine make him seriously dangerous. But when a sudden distress call puts him in close quarters with a rival, he finds more than his field skills being put to the test.
Juliet Mason stands out as the master thief in a covert group of assassins and spies. Her latest mission is personal—and it's gone horribly wrong. Juliet may prefer to work alone, but when the rookie comes to her aid in snowy Eastern Europe, she can't deny they make a good team. But even up against a powerful enemy, their most challenging task yet may be fighting the passion between them...
My Review
|
Amazon
|
B&N
|
IndieBound
About Elle Kennedy:
A RITA-award nominated author, Elle Kennedy grew up in the suburbs of Toronto, Ontario, and holds a B.A. in English from York University. From an early age, she knew she wanted to be a writer, and actively began pursuing that dream when she was a teenager.
Elle currently publishes with Signet Eclipse, Harlequin Romantic Suspense, and Samhain Publishing. She loves strong heroines and sexy alpha heroes, and just enough heat and danger to keep things interesting!
http://www.ellekennedy.com/
Don't forget about the giveaway hosted by Signet! Simply leave a comment on this post (with your email address) before 11:59PM PST Friday, April 4th and you could win the first three Killer Instincts novels (US readers only, sorry)!