It Happened One Wedding by Julie James
Series: FBI/US Attorney, Book 5
Publisher: Jove
Genre: Contemporary Romance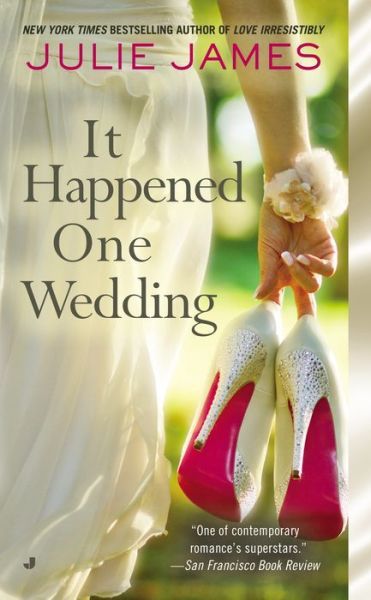 ISBN: 9780425251270
Release Date: May 6, 2014
Source: Publisher
Buy it here:
Amazon
|
B&N
SHE KNOWS BETTER THAN TO SAY "I DO"

After a humiliating end to her engagement, investment banker Sidney Sinclair is done with commitment-phobic men. But when her sister winds up engaged after a whirlwind courtship, Sidney is thrown into close contact with exactly the kind of sexy playboy she wants to avoid—the gorgeous best man. She's stuck with him, for better or worse, until her sister walks down the aisle, but that doesn't mean she has to give in to his smooth advances, no matter how tempting they are...

BUT HE MAKES IT HARD TO SAY "I DON'T"

Special agent Vaughn Roberts always gets his man on the job and his woman in bed. So Sidney's refusal to fall for his charms only makes him more determined to win over the cool and confident redhead. Only what starts out as a battle of wills ends up as a serious play for her heart. Because the one woman who refuses to be caught may be the only one Vaughn can't live without...
It Happened One Wedding
is both smart and sexy – my favorite kind of romance. Author Julie James has blended snark with substance and heat with heart to create a wonderfully entertaining story you won't want to put down.
Sidney's an intelligent, successful director at a private equity firm who's thirty-three and determined to find the right man, one she can trust with her heart, a guy she can settle down and have a family with. FBI Special Agent Vaughn Roberts is
not
that kind of man. He may have charm and good looks on his side, but he's a playboy at heart with no desire to get involved in a serious relationship. Though their initial "meet-cute" ends with Sidney writing him off, she can't exactly do that once she learns that his brother is marrying her sister. Thrown together thanks to family, the sexual tension between Vaughn and Sidney slowly builds until it explodes in the most wickedly entertaining of ways. There's a lot of push-pull in their developing relationship, and once in a while I wanted to shake Sidney and Vaughn to force them to be honest with themselves and each other about what they feel, but each had their reasons for being gun-shy about opening up.
It Happened One Wedding
is incredibly well-written and I really appreciated the level of detail Ms. James included when it came to Sidney and Vaughn's jobs. It's clear Ms. James did her research and her doing so adds depth to the story that should not go unmentioned. In fact (charming romance aside), this is what sets
It Happened One Wedding
apart for me and is why I'm definitely going to be buying the rest of the FBI/US Attorney backlist. And speaking of said series,
It Happened One Wedding
is the first of Ms. James's FBI/US Attorney stories that I've read and thus I can safely say it can be read as a standalone. But fans of the series shouldn't worry – some of her past heroes and heroines do play a part in Vaughn and Sidney's book. Whether you're a fan of Julie James or simply enjoy a good contemporary romance, don't miss
It Happened One Wedding
!
FTC Disclosure:
I received this book for free from the publisher in exchange for an honest review. This does
not
affect my opinion of the book or the content of my review.