Melting the Ice by Jaci Burton
Series: Play-by-Play, Book 7
Publisher: Berkley Trade
Genre: Erotic Contemporary Romance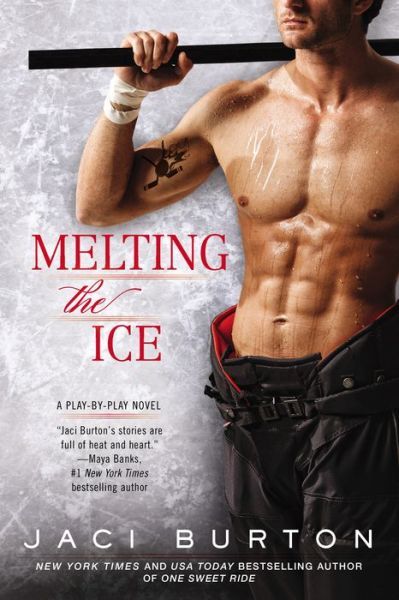 ISBN: 9780425262986
Release Date: February 4, 2014
Source: Publisher
Buy it here:
Amazon
|
B&N
Everything's coming together for budding fashion designer Carolina Preston. Only months away from having her own line, she could use some publicity. That's when her brother suggests his best friend as a model—hockey player Drew Hogan.

Carolina and Drew already have a history—a hot one, back in college. Unforgettable for Carolina, but for Drew, just another slap shot. This time, though, it's different. His perfect body would be for professional use only. This time, she could use him.

Drew is all for it. He's looking forward to the exposure. Plus, it would give him a chance to prove to Carolina that he's changed. If only he could thaw her emotions, convince her to let down her guard and let him in just one more time…
Jaci Burton heats things up in the aptly-titled
Melting the Ice
. I adored the sexy seventh installment of Ms. Burton's Play-by-Play series, and I can't wait to glom up the rest of these hot-as-hell sports romances.
I'll admit up front that I'm a sucker for a hockey player. But even if Drew didn't have that going for him he'd still be a great hero. He's charming, seductive, and doesn't let Carolina drown in her work to the point that she never has any fun. Though he hurt Carolina back in college, he's not the selfish player he once was and he more than makes up for the past. I loved how he pursued Carolina, not even realizing he was falling in love with her until it was almost too late. Drew's dedicated to his loved ones, his team, and his work ethic is superb. He's Carolina's match in every respect. She's a fashion designer who's worked her butt off to get where she is and nothing will stop her from making a success of her line. Though Drew and Carolina's mutual attraction threatens to derail their concentration (they think), they truly bring out the best in one another personally and professionally. It's easy to fall for them, and that's why
Melting the Ice
is so compelling.
I haven't yet read the previous six books in the Play-by-Play series, so I can safely say that
Melting the Ice
can be read as a standalone. That being said, I'm more eager than ever to read
The Perfect Play
,
Changing the Game
,
Taking a Shot
,
Playing to Win
,
Thrown by a Curve
,
One Sweet Ride
, the novella
Holiday Games
, and the upcoming
Straddling the Line
. I already have the first three books in the series, but I know for sure I'll be rushing to buy Gray Preston's book,
One Sweet Ride
, as he and Evelyn were wonderful supporting characters in
Melting the Ice
.
Melting the Ice
is a fast-paced, sizzling read that's easy to be swept away by. Ms. Burton, please keep those sinfully sexy athletes coming!
FTC Disclosure:
I received this book for free from the publisher in exchange for an honest review. This does
not
affect my opinion of the book or the content of my review.