Cursed by Cupid by Wendy Sparrow
Publisher: Entangled: Flirt
Genre: Contemporary Romance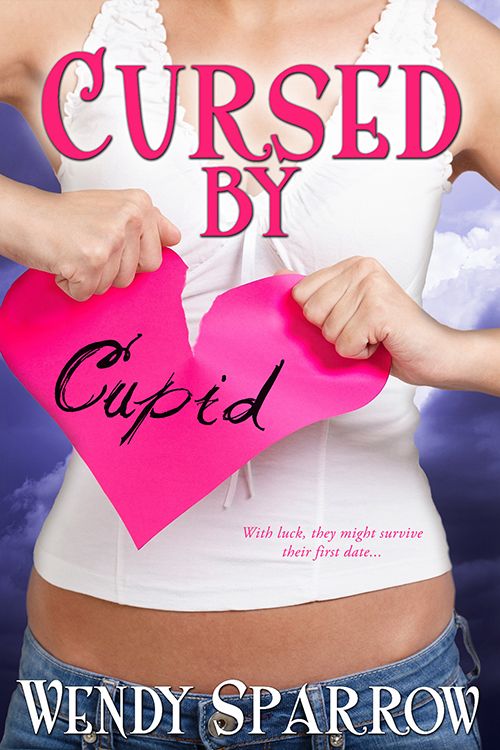 ISBN: 9781622664771
Release Date: February 3, 2014
Source: Publisher
Buy it here:
Amazon
|
B&N
Dear Reader, this letter is to inform you of Cupid's curse, which will fall upon you if you don't pass this email on to three friends within three hours.

Tilly Morrow didn't believe in the curse and now she hasn't had a second date in three years…because all her first dates end in disaster. In fact, she just accidentally punched a guy in the face, leaving her without a date for Valentine's Day!

Bryant Murphy isn't sure if the curse is real or not, but if dating Tilly means occasionally getting assaulted with a chocolate shake or nearly electrocuted, it's worth the risk. Armed with more lucky charms than a bowl of cereal, Bryant will have to battle flying swords, Russian mail-order brides, and shrimp linguini if he's going to win the girl.
Cursed by Cupid
is a wonderfully zany read that's sure to bring a smile to your face. Anyone who's ever had rotten luck in love will surely appreciate Tilly's trials. Three years ago she broke what should have been a harmless chain letter and found herself horribly cursed. Luckily for her, Bryant isn't one to be scared off by rogue chocolate shakes or flying prop swords. He's determined to help Tilly break her curse and I was utterly charmed by that and by him in general. He and Tilly are two characters you wish were real just so you could be friends with them (though you might have to wear a poncho for a girls' night out with Tilly). Bryant and Tilly's madcap road to a first date made
Cursed by Cupid
feel like a screwball romantic comedy, and I mean that in the very best way.
Cursed by Cupid
is pure fun from beginning to end and I highly recommend it to anyone looking for a zippy romance to lighten the heart. Though it isn't easy for Tilly to overcome her curse, author Wendy Sparrow made all the madness worth it. Having enjoyed
Cursed by Cupid
as much as I did, I'll definitely be on the lookout for more of Ms. Sparrow's stories.
FTC Disclosure:
I received this book for free from the publisher in exchange for an honest review. This does
not
affect my opinion of the book or the content of my review.