The Unexpected Wedding Guest by Aimee Carson
Series: The Wedding Season, Book 1
Publisher: Harlequin KISS
Genre: Contemporary Romance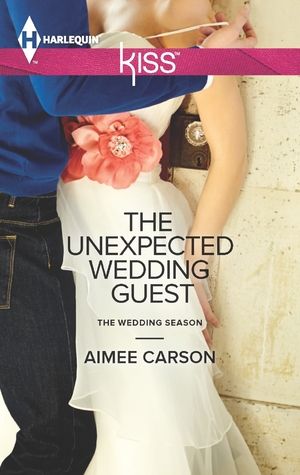 Release Date: June 18, 2013
ISBN: 9780373207206
Buy it here:
Amazon
|
B&N
They say it's bad luck for the groom to see the bride in her wedding dress, but what do they say when it's your
ex-husband
who walks in on your fitting? Reese Michael doesn't know, but she wants Mason Hicks
gone
. It's been nine years since she last saw Mason and his showing up a few days before her wedding starts a chain of events that cause Reese's perfect life to crash down around her ears. Now her fiancé has cancelled the wedding and it's Mason who's sticking around, offering to help Reese with the fallout. Reese doesn't want to be distracted by her ex's gorgeous body or the way her long-buried feelings for him seem to be resurfacing. But the longer she's around her unexpected wedding guest, the closer Reese comes to falling for her first love all over again.
True love gets a second chance in
The Unexpected Wedding Guest
. I was captivated by Reese and Mason's romance and it took all of my willpower not to start re-reading
The Unexpected Wedding Guest
as soon as I finished it the first time.
Mason and Reese are a couple that dashed into love the first time when they were too young and not ready to deal with the troubles their marriage would face. Loving each other wasn't the problem; living with one another was. I love how author Aimee Carson shows the initial attraction between Reese and Mason and slowly reveals why it is they didn't work the first time around. Both Reese and Mason needed to grow up before they were truly ready to be together, and now that they have, it's clear they have what it takes to make it as a couple. Though there's heartache on the road to happily ever after, Ms. Carson had me cheering for these two, and I finished their story a well-satisfied reader.
The Unexpected Wedding Guest
is the first book in the multi-author Wedding Season quartet and I'm really looking forward to reading
The Girl Least Likely to Marry
,
Maid of Dishonor
, and
Last Groom Standing
. Reese's three best friends from college — aka the future Wedding Season heroines — play supporting roles and I find myself intrigued by each of them, particularly Gina. In addition, Ms. Carson wrote a prequel novella,
The Wedding Dress Diaries
, which features Reese's half-brother, Parker. While he isn't a major character in
The Unexpected Wedding Guest
, it was a delight to see Parker and his heroine, Amber, make cameos in this story. The only niggle I had about
The Unexpected Wedding Guest
was how quickly Reese's nice guy fiancé backed out of the wedding, but I expect that will be explained down the line when it's time for his book.
The Unexpected Wedding Guest
is the perfect story to curl up with when you want something fun, sexy, and heartwarming. I loved it and I can't wait to read more of Ms. Carson's work!