Waiting On Wednesday is a weekly event hosted by Jill at
Breaking the Spine
which spotlights eagerly anticipated upcoming releases!
This week I have two very different WOWs, both March releases. The first is
Bound Hearts
by C.C. Galloway, which promises to be an incredibly erotic read. Ever since Ms. Galloway's debut novel,
Hail Mary
, I've been dying to see Mary's best friend get her HEA. The second is
A Breath of Eyre
, which I discovered because of someone's WOW post (I don't remember who you are, but thank you). I've pre-ordered it already - it sounds like a book for book lovers.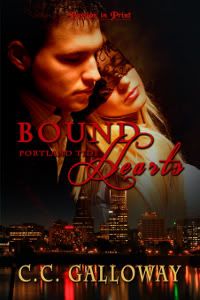 Title:
Bound Hearts
Series: Portland Tide, Book 2
Author:
C.C. Galloway
Genre: Erotic Contemporary Romance
Publisher: Passion in Print
Release Date: March (not sure when this month)
Book Description (from
Goodreads
):
Calleigh Stuart has lusted after David Shalvington for the better part of the last year, and despite her best efforts, he's never been anything but cool and polite. When she puts her feelings on the line, he discloses a sexual side that demands sexual and emotional submission at odds with everything she believes. Can she put aside her reservations in order to embrace true love?
David is a busy executive in his professional life and a sexual dominant in his personal life. Despite his attraction to her, he's ignored Calleigh's subtle signals because he has no time to initiate a novice submissive. But when he finally realizes he can't get her out of his mind, he's willing to do whatever it takes to demonstrate how satisfying the sexual dark side can be.
Title:
A Breath of Eyre
Series: Unbound, Book 1
Author:
Eve Marie Mont
Genre: YA
Publisher: KTEEN
Release Date: March 27, 2012
Book Description (from
Goodreads
):
Emma Townsend has always believed in stories—the ones she reads voraciously, and the ones she creates in her head. Perhaps it's because she feels like an outsider at her exclusive prep school, or because her stepmother doesn't come close to filling the void left by her mother's death. And her only romantic prospect—apart from a crush on her English teacher—is Gray Newman, a long-time friend who just adds to Emma's confusion. But escape soon arrives in an old leather-bound copy of Jane Eyre...
Reading of Jane's isolation sparks a deep sense of kinship. Then fate takes things a leap further when a lightning storm catapults Emma right into Jane's body and her nineteenth-century world. As governess at Thornfield, Emma has a sense of belonging she's never known—and an attraction to the brooding Mr. Rochester. Now, moving between her two realities and uncovering secrets in both, Emma must decide whether her destiny lies in the pages of Jane's story, or in the unwritten chapters of her own...