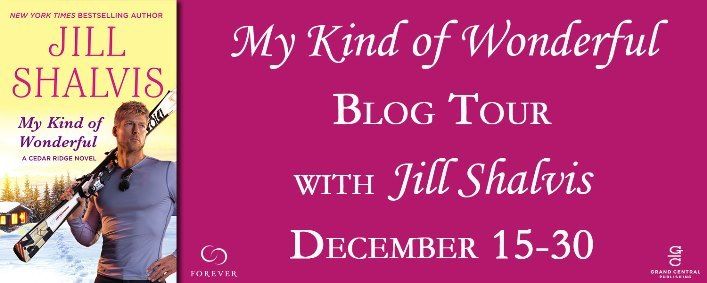 If you've visited Wit and Sin a time or two, then you probably know I'm a huge Jill Shalvis fan. Her books are always funny, sexy, and wonderfully entertaining. Her upcoming Cedar Ridge novel,
My Kind of Wonderful
, is no exception, which is why I'm delighted to be a part of the blog tour. My review of
My Kind of Wonderful
can be found
here
, and if you scroll down on this post you'll find a Q&A with Jill Shalvis, information on the Cedar Ridge series, and a
giveaway
from Ms. Shalvis's publisher, Forever!
Q&A with Jill Shalvis:
Q: What can you tell us about Bailey and Hudson that we won't find in the book?
A:
That someday they're going to have twin boys that will drive them as crazy as Hud and his own twin Jacob drove his mother… :)
Q: What has been your favorite experience as a writer?
A:
Getting to meet so many readers. I'm a reader first and foremost, so it's like I've found my people! But that said, there's nothing like walking the aisles of Target or Walmart and coming across your books on the shelves.
Q: For readers who have never read a Jill Shalvis book, what would tell them they can expect from your stories?
A:
A warm, sexy, funny contemporary romance with hot guys who aren't too alpha to gall in love and admit it, and a guaranteed happily ever after.
About My Kind of Wonderful:
Bailey Moore has an agenda: skiing in the Rockies, exploring castles in Europe, ballroom dancing in Argentina. Now that she has a second lease on life, she's determined not to miss a thing. What she doesn't realize is that item #1 comes with a six-foot-one ski god hot enough to melt a polar ice cap. She doesn't want to miss out on him either, but Hudson Kincaid isn't the type of guy to love and let go. And as gorgeous as Cedar Ridge is, she's not planning to stick around.
As head of ski patrol at his family's resort, Hud thinks he's seen it all. But never has he run into someone like Bailey. She might look delicate, but her attitude is all firecracker. And her infectious joy touches something deep within him that he's been missing far too long. Now he'll just have to convince Bailey to take a chance on her biggest adventure yet…something rare and all kinds of wonderful.
My Review
|
Amazon
|
B&N
|
Kobo
|
BAM!
|
iTunes
|
Google Play
Start from the beginning with book one in the Cedar Ridge series, SECOND CHANCE SUMMER!
About Second Chance Summer: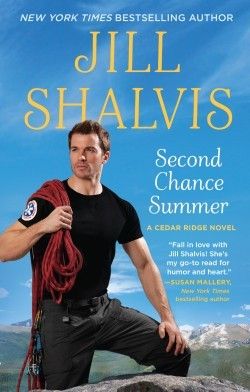 Cedar Ridge, Colorado, is famous for crisp mountain air, clear blue skies, and pine-scented breezes. And it's the last place Lily Danville wants to be. But she needs a job, and there's an opening at the hottest resort in her hometown. What has her concerned is the other hot property in Cedar Ridge: Aidan Kincaid-firefighter, rescue worker, and heartbreaker. She never could resist that devastating smile…
The Kincaid brothers are as rough and rugged as the Rocky Mountains they call home. Aidan has always done things his own way, by his own rules. And never has he regretted anything more than letting Lily walk out of his life ten years ago. If anyone has ever been in need of rescuing, she has. What she needs more than anything are long hikes, slow dances, and sizzling kisses. But that can only happen if he can get her to give Cedar Ridge-and this bad boy-a second chance…
My Review
|
Amazon
|
B&N
|
Kobo
|
BAM!
|
iTunes
|
Google Play
About Jill Shalvis: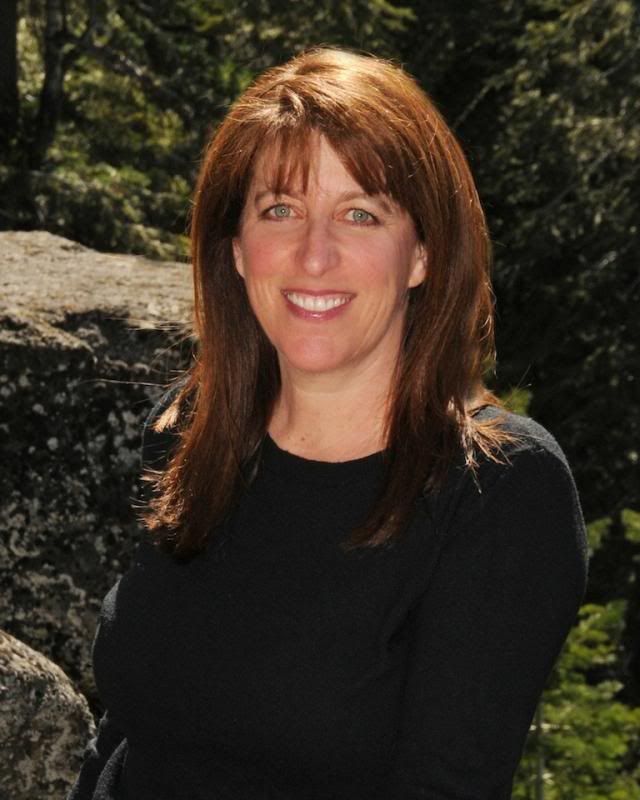 New York Times
bestselling author Jill Shalvis lives in a small town in the Sierras full of quirky characters. Any resemblance to the quirky characters in her books is mostly coincidental. Look for Jill's bestselling, award-winning books wherever romances are sold and visit her website for a complete book list and daily blog detailing her city-girl-living-in-the-mountains adventures.
Find Jill Shalvis on the Web:
Website
|
Twitter
|
Facebook
|
GoodReads
Giveaway
Enter here to win a copy of
My Kind of Wonderful
!:
a Rafflecopter giveaway