Waiting On Wednesday is a weekly event hosted by Jill at
Breaking the Spine
which spotlights eagerly anticipated upcoming releases!
Elizabeth Hoyt's Maiden Lane series is one of my favorite historical romance series. Her characters are always unique and the only downside to the books is that I finish one and want to jump into the next immediately. Before I had even finished the last Maiden Lane story,
Dearest Rogue
, I was already eager to read this week's WOW pick,
Sweetest Scoundrel
(for reasons that are too spoiler-ish to reveal). I can't wait to see Asa and Eve together!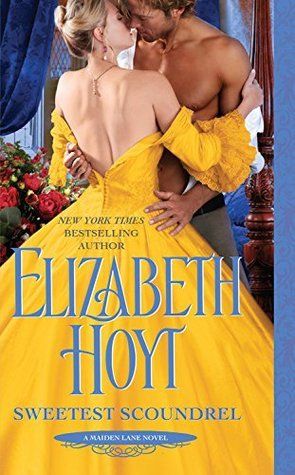 Title:
Sweetest Scoundrel
Series: Maiden Lane, Book 9
Author:
Elizabeth Hoyt
Genre: Historical Romance
Publisher: Forever
Release Date: November 24, 2015
Elizabeth Hoyt Reading Order
Book Description (from
Elizabeth Hoyt's website
):
SHE'S TAKING CHARGE
Prim, proper, and thrifty, Eve Dinwoody is all business when it comes to protecting her brother's investment. But when she agrees to control the purse strings of London's premier pleasure garden, Harte's Folly, she finds herself butting heads with an infuriating scoundrel who can't be controlled.
HE'S RUNNING THE SHOW
Bawdy and bold, Asa Makepeace doesn't have time for a penny-pinching prude like Eve. As the garden's larger-than-life owner, he's already dealing with self-centered sopranos and temperamental tenors. He's not about to let an aristocratic woman boss him around...no matter how enticing she is.
BUT LOVE CONQUERS ALL
In spite of her lack of theatrical experience-and her fiery clashes with Asa-Eve is determined to turn Harte's Folly into a smashing success. But the harder she tries to manage the stubborn rake, the harder it is to ignore his seductive charm and raw magnetism. There's no denying the smoldering fire between them-and trying to put it out would be the greatest folly of all...