Sleeping with the Enemy by Tracy Solheim
Series: Out of Bounds, Book 4
Publisher: Berkley
Genre: Contemporary Romance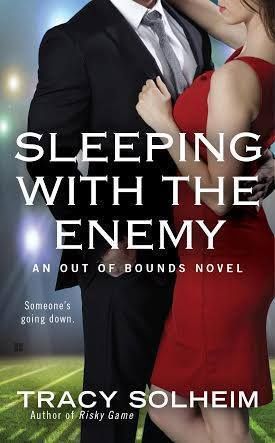 ISBN: 9780425281024
Release Date: September 1, 2015
Source: Publisher
Buy it here:
Amazon
|
B&N
Dot-com millionaire Jay McManus is discovering that owning a pro football team like the Baltimore Blaze isn't easy. An anonymous blogger is out to destroy his reputation, and now his team is being sued by its own cheerleaders. If Jay's not careful, he could lose big—and not just financially.

Bridgett Janik's brother may play for the Baltimore Blaze, but she's not thrilled to be defending Jay McManus, the man who broke her heart. It's bad enough she has to mingle with Jay during games, but working beside her former lover may be too much for her body—and her heart—to resist.

Jay's determined not to let Bridgett slip away from him a second time. But, as the two follow the mysterious blogger's trail, secrets—both past and present—are revealed, and Jay and Bridgett must decide if their relationship can be something more than just sleeping with the enemy.
Tracy Solheim keeps the tension – sexual and otherwise – running high in
Sleeping with the Enemy
. Bridgett and Jay's shared past is bittersweet and clearly ended badly, making their reunion romance anything but sweet. Though there aren't tender feelings between them at the beginning of the book, what they definitely don't lack is passion, and this keeps the story moving at a fast pace.
I adored Bridgett. She's smart, caring, and under the confidence she wears like armor lies a woman with deep scars. Bridgett is easy to root for and it's clear her feelings for Jay have never died, even though she hates him at the beginning of the book. As for Jay, I'm sorry to say I didn't like him for most of the story. He's a domineering alpha male, and also a selfish one, a man who looks to take what he wants from Bridgett and doesn't seem to care what their troubled connection does to her. Though Ms. Solheim shows his reasoning, I was turned off by his continued callousness. And while the sexual tension between Bridgett and Jay made the story interesting, there were times that the overused "heroine hating the hero but turning to mush the minute he kisses her" bothered me. Because they don't simply sit down and
talk
about what went wrong in the past (clearing up the big misunderstanding), Jay and Bridgett require some strong outside help to get together, and whether or not this bothers you is something I chalk up to reader preference. Yet even taking into consideration the issues I had with the romance, I was still engaged with the story.
Sleeping with the Enemy
is the fourth Out of Bounds novel, and though it features the Baltimore Blaze's owner rather than one of the team's star players, that doesn't mean the story is lacking in behind-the-scenes NFL action. The overarching series plotline of the blogger targeting the Baltimore Blaze reaches its climax in this book. I absolutely loved seeing this storyline finally play out in full and I was as invested in this part of the book as I was the romance.
Highly entertaining secondary characters round out the story. While
Sleeping with the Enemy
can be read as a standalone, fans of the series will likely enjoy seeing past Out of Bounds characters. As much fun as it was revisiting the Blaze team and staff, I was most intrigued by Jay's sister, Charlie, and his best friend, Blake. So while
Sleeping with the Enemy
had its ups and downs for me, I'll definitely be on the lookout for more of Ms. Solheim's work.
FTC Disclosure:
I received this book for free from the publisher in exchange for an honest review. This does
not
affect my opinion of the book or the content of my review.