Brown-Eyed Girl by Lisa Kleypas
Series: Travis Family, Book 4
Publisher: St. Martin's Press
Genre: Contemporary Romance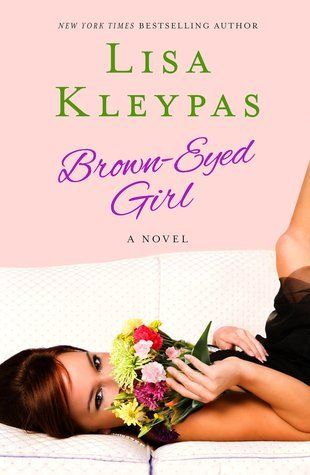 ISBN: 9780312605377
Release Date: August 11, 2015
Source: Publisher
Buy it here:
Amazon
|
B&N
Lisa Kleypas Reading Order
Wedding planner Avery Crosslin may be a rising star in Houston society, but she doesn't believe in love-at least not for herself. When she meets wealthy bachelor Joe Travis and mistakes him for a wedding photographer, she has no intention of letting him sweep her off her feet. But Joe is a man who goes after what he wants, and Avery can't resist the temptation of a sexy southern charmer and a hot summer evening.

After a one night stand, however, Avery is determined to keep it from happening again. A man like Joe can only mean trouble for a woman like her, and she can't afford distractions. She's been hired to plan the wedding of the year-a make-or-break event.

But complications start piling up fast, putting the wedding in jeopardy, especially when shocking secrets of the bride come to light. And as Joe makes it clear that he's not going to give up easily, Avery is forced to confront the insecurities and beliefs that stem from a past she would do anything to forget.

The situation reaches a breaking point, and Avery faces the toughest choice of her life. Only by putting her career on the line and risking everything-including her well-guarded heart-will she find out what matters most.
Whether you're being swept off to a house party in nineteenth century England or find yourself being rescued from a scorpion at a modern-day Texas wedding, there's simply nothing like diving into a Lisa Kleypas novel.
Brown-Eyed Girl
is the latest of Ms. Kleypas's stories to make me fall in love with her writing. The effervescent charm of
Brown-Eyed Girl
and its endearing characters make the fourth Travis Family novel a truly addictive read.
Ms. Kleypas writes some of the best heroes in romance and Joe Travis is no exception. He's smart, caring, sexy-as-sin, funny, and patient to boot. It's impossible not to fall in love with Joe, for he's full of charm, sensuality, and innate goodness, and somehow Ms. Kleypas manages to make him the perfect hero without him ever seeming like a cardboard Prince Charming. When he sets his sights on Avery… Man, what I wouldn't give to be her. But Avery doesn't make things easy on Joe. She's his match in every way, a hardworking, intelligent businesswoman with a lot of love to give. But Avery was hurt and humiliated in the past, first by her father and then by the man she had planned to marry. Though she's undeniably strong, Avery is also deeply vulnerable and fears putting herself out there, making the walls she has put up around her heart a mile high and three miles deep. I adored Avery, and Ms. Kleypas does a great job of showing why she's reticent to get involved with Joe in spite of – or perhaps because of – the fact that he's nearly perfect. Joe isn't a saint and his patience isn't infinite, but his determination to win Avery over is enough to create some cracks in her emotional armor. It isn't easy for Avery to overcome the ghosts of her past, but her burgeoning relationship with Joe is worth the fight. When the two of them share the page, sparks fly and there is an underlying sweetness to their romance that made me happily sigh.
A cast of lively secondary characters makes
Brown-Eyed Girl
even more fun to read. Though this book can be read as a standalone, readers who fell in love with Joe's siblings and in-laws in
Sugar Daddy
,
Blue-Eyed Devil
, and
Smooth Talking Stranger
will be pleased to know that the Travis family members plays strong supporting roles in Joe and Avery's story. Watching Avery and Joe interact with their loved ones is almost as much fun as watching their love story unfold.
There's a lot to love about
Brown-Eyed Girl
and fans old and new of the Travis Family series are in for a treat. Joe and Avery's romance is sweet, sensual, and just plain fun. I had a blast reading
Brown-Eyed Girl
and I hope Ms. Kleypas returns to the Travis family at least once more, for there's a certain cousin of Joe's whose story I am simply dying to read.
FTC Disclosure:
I received this book for free from the publisher in exchange for an honest review. This does
not
affect my opinion of the book or the content of my review.