Dearest Rogue by Elizabeth Hoyt
Series: Maiden Lane, Book 8
Publisher: Vision
Genre: Historical Romance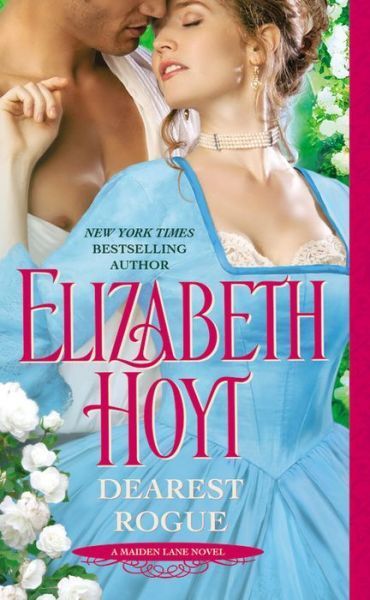 ISBN: 9781455586356
Release Date: May 26, 2015
Source: Publisher
Buy it here:
Amazon
|
B&N
Elizabeth Hoyt Reading Order
HE CAN GUARD HER
Lady Phoebe Batten is pretty, vivacious, and yearning for a social life befitting the sister of a powerful duke. But because she is almost completely blind, her overprotective brother insists that she have an armed bodyguard by her side at all times-the very irritating Captain Trevillion.

FROM EVERY DANGER
Captain James Trevillion is proud, brooding, and cursed with a leg injury from his service in the King's dragoons. Yet he can still shoot and ride like the devil, so watching over the distracting Lady Phoebe should be no problem at all-until she's targeted by kidnappers.

BUT PASSION ITSELF
Caught in a deadly web of deceit, James must risk life and limb to save his charge from the lowest of cads-one who would force Lady Phoebe into a loveless marriage. But while they're confined to close quarters for her safekeeping, Phoebe begins to see the tender man beneath the soldier's hard exterior…and the possibility of a life-and love-she never imagined possible.
Dearest Rogue
has everything I look for in a romance – smart characters, a passionate love story, engaging dialogue, a vibrant supporting cast, fast-paced action, and an overall story you just don't want to end. Elizabeth Hoyt is a historical romance virtuoso and her writing shines in this eighth Maiden Lane book.
Phoebe is like sunshine; she brings brightness and warmth to all those around her. She's also blind and living in a time where society in general is more apt to try and take advantage of her or see her as less than she is. Because of this, her brother tries to wrap her in cotton and make sure that no harm will ever come to her. But Phoebe is a lively, curious woman who can't thrive in a cage, and she doesn't take kindly to her brother restricting her movements even more and making the dour Captain James Trevillion her guard dog on top of it. Only having Trevillion around isn't exactly the hardship Phoebe thought it would be. Trevillion is serious and protective, to be sure, but the wounded former dragoon is also the man who definitely made this reader swoon with his love for Phoebe. Trevillion sees Phoebe for the vibrant, intelligent, sensual woman that she is and the two of them bring each other to life. Trevillion's time as a dragoon gave him a purpose and was a welcome distraction from the ghosts of his past. With Phoebe in danger, however, he's very worried he'll fail her and that just about broke my heart. It was lovely to watch him heal with Phoebe's help. The two of them simply fit like lock and key.
It's no simple matter for Phoebe and Trevillion to get their happily ever after – the differences in their age and social class can't simply be ignored in the eighteenth century – but Ms. Hoyt is never one to go the traditional route when crafting her romances, and I'm glad of it. Trevillion and Phoebe's romance just about made me melt – it's passionate, charming, emotional, and captivating all at once. Only sheer exhaustion kept me from reading
Dearest Rogue
all through the night. As it was, I picked up the book and finished it immediately upon waking, unable to resist the lure of Phoebe and Trevillion's romance.
Outside the romance there is the not-so-small matter of who is trying to kidnap Phoebe and why. Though readers will likely guess who is behind the kidnapping attempts, that doesn't make the storyline any less interesting (in fact, I'd say it's more so because of this). The kidnapping plotline brings with it appearances from past Maiden Lane heroes and heroines. I loved revisiting the men and women who endeared themselves to me in past books and it was a true delight to get a peek into their lives now.
Dearest Rogue
also furthers readers' acquaintance with Valentine Napier, Duke of Montgomery, an intriguing, scene-stealing manipulator who is impossible to resist.
The Maiden Lane series is filled with wonderful stories that I absolutely love and I can't pick just one to be my favorite. That being said,
Dearest Rogue
definitely ranks as one of my favorites in the series. The only issue I had with the book is that it left me wanting to dive right into the next story,
Sweetest Scoundrel
. Ms. Hoyt sure knows how to tease readers, because I know I'm not the only one who'll be clamoring for more after the introduction of Eve Dinwoody (heroine of
Sweetest Scoundrel
). While I wait, I'll be sure to re-read
Dearest Rogue
. In fact, upon finishing I was already looking forward to diving into Phoebe and Trevillion's book again – it's just that addictive.
FTC Disclosure:
I received this book for free from the publisher in exchange for an honest review. This does
not
affect my opinion of the book or the content of my review.