I love Elizabeth Hoyt's Maiden Lane books, but even among all the fabulous stories in the series,
Dearest Rogue
(releasing today) stands out as one of my favorites. Trevillion and Phoebe's book was fantastic and I'm so excited to be a part of the
Dearest Rogue
blog tour. My review of
Dearest Rogue
can be found
here
, and if you scroll down on this post you'll find an excerpt from
Dearest Rogue
and a
giveaway
from Ms. Hoyt's publisher, Forever!
Excerpt from Dearest Rogue: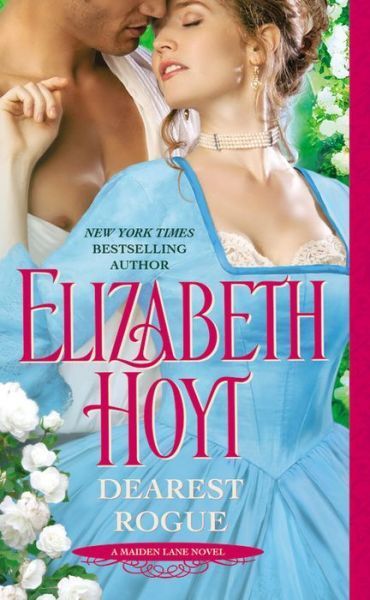 Trevillion woke the next morning as he often did: all at once, at exactly six of the clock, and with a stiff cock. What wasn't usual was the soft breath against his neck, the small hand draped over his chest, and the face pressed into his shoulder. Apparently his rolled coat had lost the battle in the night to Lady Phoebe and her unconscious stubbornness.
He lay for a moment, simply listening to her breathe. He could feel her soft breast pressed into his side. He'd somehow draped his arm around her so that she lay within his embrace. To anyone entering the room, they'd have looked like lovers, he and Lady Phoebe. He closed his eyes. If he were truly married to her, this was what every morning might be like: sweet and unhurried, full of potential.
But he wasn't married to Phoebe and they most certainly were not lovers—now or in the future.
The thought was a bitter draught, hard to swallow, harder to keep down: this woman wasn't for him.
Cautiously he began inching his arm out from beneath her neck.
But Lady Phoebe was never as easy as that.
She murmured something intelligible and curled into him, like a hedgehog resisting being disturbed. He craned his neck, looking down, and watched as her nose scrunched adorably. Her light-brown hair was spread upon her pillow and draped over the side of her face, one strand caught between her lush, rose lips.
Blowing out a silent breath, he let his head fall back to the pillow, trapped by a slip of a girl.
God, but his cock was hard—he could feel the pulse of his blood, hot and insistent. Were he in the bed alone he'd slip his hand downward, over the flat, hard planes of his belly, into the coarse hair below. Fondle his balls, drawn up tight below that jutting flesh, and finally take his cock into his hand. Touch the tip, sensitive and wet, take some of that moisture and spread it down the shaft, squeezing just a bit as he—
"Um?" Phoebe sighed the sound into his neck, reaching up one hand to scratch her nose. "Wha—?"
He swallowed before he could speak. Still, his voice came out a deep rasp. "Good morning, my lady."
Somewhere, somehow, a god was laughing at him.
He knew the moment she came completely awake, for she immediately froze.
She inhaled, breathed out, inhaled again, and said, "James?"
"Yes?"
"What are you wearing?" Her nimble fingers were already exploring the broadcloth over his rib cage, sliding, feeling their way.
She was going to drive him insane.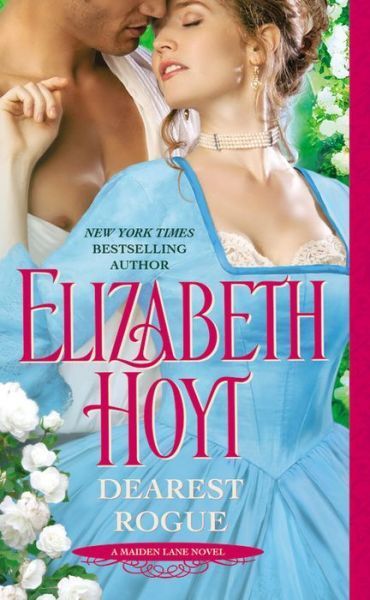 "My shirt, my lady."
Her fingers stilled a moment. "Is that all?" Her voice was rather husky, but that might be from disuse.
He cleared his throat. "No, I have on my breeches as well." Thank God.
"James?"
"I think you ought to cease calling me by my given name, my lady," he said, sounding to his own ears like a virginal eighty-year-old—rather ironic since the actual virgin in the room was presently slipping her fingers inside the open V of his shirt.
He held his breath as she traced his collarbone.
"Why?" she asked. "I like your name. James is so very practical. I always think one can rely on a James—and I can rely on you, can't I?"
He cleared his throat again, trying to remember his argument. "Yes, but—"
"You've got chest hair!" she exclaimed, as if discovering he had wings. "How very strange that must be. Does it get tangled in your shirts?"
"Ow," he remarked, because her exploring fingers had caught a few. "No. Not unless I were to decide to wear chain mail shirts."
"It's very thick," she said next. "How far does it go down—"
He rolled off the bed. Rather fast in fact, losing a few of those chest hairs to her fingers as he did. And for the first time he was actually glad she was blind, because if she could see she'd have gotten quite the eyeful. His cock had been more than happy with her curiosity.
She sat up, which did not help matters at all, because as he'd observed last night her chemise was damnably fine. He could see her nipples if he looked.
Only a base cad would look.
They were bright pink and pointed and sat atop the most gorgeous round breasts he'd ever seen. He just wanted to—
He looked away and began dressing.
"What's the matter?" she asked.
"You know damned well what the matter is," he surprised himself by replying heatedly. This wasn't the way to speak to a lady, to an employer's sister, to—
"No, I don't," she said. "Why don't you come back and we can practice the kissing that—"
"You're too young!" he shouted. "Too highborn, too reckless with your own safety, too sweet, and too damned young. Stop. Stop baiting me, stop using me as your own personal plaything. I might be your brother's servant, but I'm a man as well."
"I never thought you weren't," she said quietly. "I know you're a man, James. I wouldn't have it any other way. I don't want a personal plaything. I want you."
About Dearest Rogue: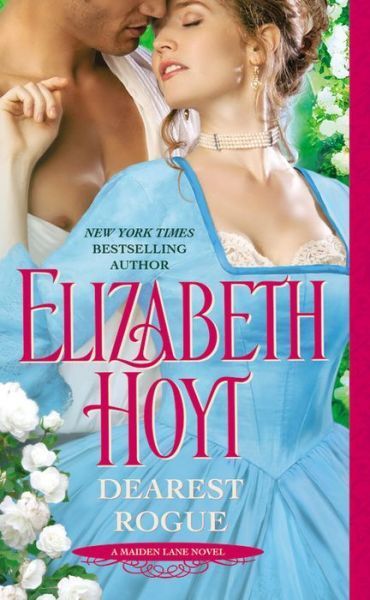 HE CAN GUARD HER
Lady Phoebe Batten is pretty, vivacious, and yearning for a social life befitting the sister of a powerful duke. But because she is almost completely blind, her overprotective brother insists that she have an armed bodyguard by her side at all times-the very irritating Captain Trevillion.
FROM EVERY DANGER
Captain James Trevillion is proud, brooding, and cursed with a leg injury from his service in the King's dragoons. Yet he can still shoot and ride like the devil, so watching over the distracting Lady Phoebe should be no problem at all-until she's targeted by kidnappers.
BUT PASSION ITSELF
Caught in a deadly web of deceit, James must risk life and limb to save his charge from the lowest of cads-one who would force Lady Phoebe into a loveless marriage. But while they're confined to close quarters for her safekeeping, Phoebe begins to see the tender man beneath the soldier's hard exterior…and the possibility of a life-and love-she never imagined possible.
My Review
|
Amazon
|
B&N
|
Kobo
|
BAM!
|
iTunes
|
Google Play
About Elizabeth Hoyt:
Elizabeth Hoyt is the New York Times bestselling author of over seventeen lush historical romances including the Maiden Lane series. Publishers Weeklyhas called her writing "mesmerizing." She also pens deliciously fun contemporary romances under the name Julia Harper. Elizabeth lives in Minneapolis, Minnesota, with three untrained dogs, a garden in constant need of weeding, and the long-suffering Mr. Hoyt.
Find Elizabeth Hoyt on the Web:
Website
|
Twitter
|
Facebook
|
Goodreads
Giveaway
Enter here to win a copy of
Dearest Rogue
!:
a Rafflecopter giveaway