Wildflower Wedding by LuAnn McLane
Series: Cricket Creek, Book 6
Publisher: Signet
Genre: Contemporary Romance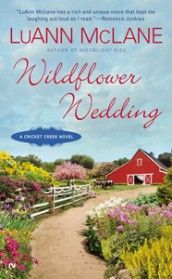 ISBN: 9780451415592
Release Date: April 1, 2014
Source: Publisher
Buy it here:
Amazon
|
B&N
Growing up on the wrong side of the tracks, Gabby Goodwin had more to prove than the rest of Cricket Creek. Even now, as the successful owner of the local flower shop, she hasn't forgotten her humble beginnings. So when her high school crush, the former class bad boy, walks back into her life, she keeps him at arm's length, protecting her heart—and her pride.

Reese Marino gave up most of his wild ways years ago, graduating from college and becoming part owner of his uncle's pizza parlor. The fact that Gabby still treats him like a troubled teenager drives him mad, but that's not the only thing about the sassy florist driving him to distraction. Despite Gabby's reluctant attitude, Reese is determined to win her over and show her that love often blooms right where you least expect it.
Wildflower Wedding
is sweetness and Southern charm with a healthy dose of sensual romance. There's something innately welcoming about LuAnn McLane's Cricket Creek books and I was drawn into Gabby and Reese's book from the start.
Back in high school, Reese was the classic bad boy with a chip on his shoulder. He's matured greatly in the intervening years since moving to New York and back, but the chip's still there at times…as are his old feelings for Gabby Goodwin. Gabby's as bright and sweet as her name implies, but that doesn't mean she's easily charmed. She and Reese have a history, one that made me smile every time there was a flashback. I loved watching the two of them fall in love, and it's not that far a fall, given the feelings that were already there. Ms. McLane doesn't make it all smooth sailing for them – now that he's returned to his hometown, Reese has trouble letting go of the past and that impacts his relationship with Gabby. Even so, the two of them get a lovely happily ever after with just the right amount of sentiment.
A secondary romance involving Reese's uncle, Tony, is every bit as important to
Wildflower Wedding
as Gabby and Reese's love story. Tony's been through the wringer thanks to his grasping, cheating ex-wife and he doesn't want to fall for anyone. Too bad for him, as his neighbor and landlord, a divorcée by the name of Trish, tempts him to start trusting in love again. If two love stories weren't enough, a pair of tertiary romances play out in the background of
Wildflower Wedding
, adding to the story's message of taking a chance on love. I loved how Ms. McLane balanced all these characters and storylines, giving the lovable residents of Cricket Creek a sufficient amount of page time without ever detracting from her main characters.
Wildflower Wedding
is a strong addition to the delightful Cricket Creek series. I finished Reese and Gabby's story with a smile on my face and I can't wait to return to Cricket Creek once more!
FTC Disclosure:
I received this book for free from the publisher in exchange for an honest review. This does
not
affect my opinion of the book or the content of my review.