Cairo Caper by Barbara Silkstone
Series: Wendy Darlin Tomb Raider, Book 3
Publisher: Barbara Silkstone
Genre: Comedy Mystery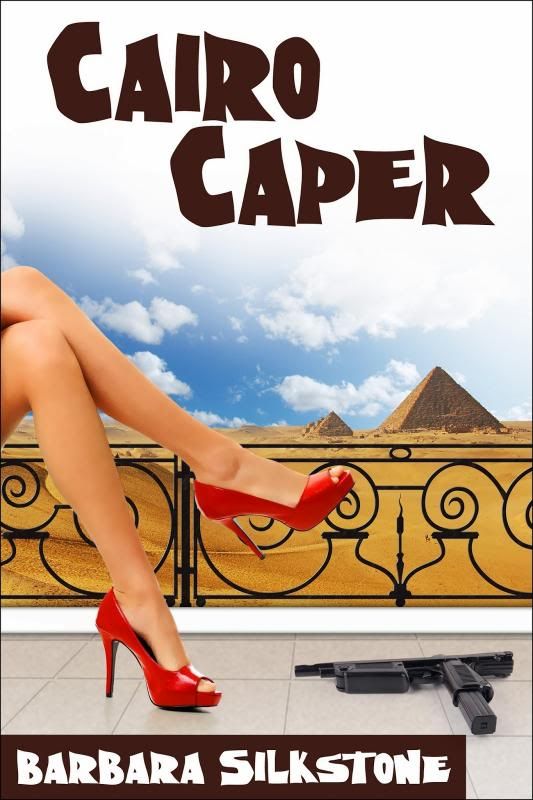 Source: Author
Buy it here:
Amazon
Part-time tomb raider and full-time real estate broker, Wendy Darlin joins her lover, archaeologist Roger Jolley, in a quest for Cleopatra's tomb. All they have to do is get from Cairo to the Temple of Taporisi Magna alive.

Armed only with a couple of hijacked ashtrays and faced with a trek across the blazing Sahara desert can Wendy out-maneuver Russian oligarchs, a dozen Dark Force mercenaries, and Roger's chubby ex-girlfriend in time to find the tomb and seal it before chaos erupts in Egypt?
There's never a dull moment in
Cairo Caper
. Author Barbara Silkstone's third Wendy Darlin Tomb Raider adventure is filled with pratfalls, pith helmets, killer ashtrays, mismatched shoes, and tongue-in-cheek film references. It's less Indiana Jones and more Three Stooges, which isn't a bad thing if you're a fan of non-stop slapstick.
I went into
Cairo Caper
hoping for a comedic Lara Croft meets
The Mummy
story, and came out disappointed. It's a sad fact that no book will charm every single reader, and
Cairo Caper
was a miss for me. For the most part, I liked Wendy Darlin, former real estate broker turned tomb raider, but unfortunately she was the only character who had more than one dimension. Perhaps I'm at a disadvantage when it comes to connecting with Wendy's lover, Roger Jolley, as I haven't read the first two books in the series (
Wendy and the Lost Boys
and
London Broil
), but I felt he was uninteresting. The cast of mostly irritating secondary characters were one-note as well, and I simply didn't find humor in the clingy, dim librarian Fiona or Roger's ex, Darcy, who also had the unfortunate side-effect of bringing out Wendy's catty side (I cannot think of one scene in the story where Wendy didn't snark about Darcy's weight).
Issues with the characters aside, I did enjoy the pace of the story and Wendy and Roger's quest for Cleopatra's tomb did have its exciting moments. Although
Cairo Caper
wasn't my cup of tea and I don't connect with Ms. Silkstone's brand of humor, I do recommend the story to fans of extremely zany adventures.
FTC Disclosure:
I received this book for free from the author. This does
not
affect my opinion of the book or the content of my review.