The Sugar Detox: Lose Weight, Feel Great, and Look Years Younger by Brooke Alpert, MS, RD, CDN and Patricia Farris, MD, FAAD
Publisher: Da Capo Lifelong Books
Genre: Health and Nutrition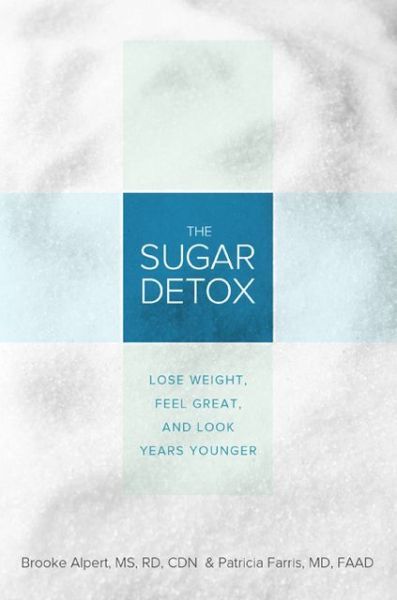 ISBN: 9780738216416
Buy it here:
Amazon
|
B&N
Sugar is the new controlled substance. The average American consumes up to 31 pounds of sugar a year, and a diet high in sugar can cause diabetes, obesity, and many other health crises. Our excess intake of sugar, from the white stuff on the table to the high-fructose corn syrup hidden in packaged foods, is not only making us sick, it's making us fat and aging our skin. Now, nutritionist Brooke Alpert and dermatologist Patricia Farris team up in this revolutionary program that helps get the sugar out of your diet to recapture youthful skin and good health.

Designed to limit the amount of extra blood sugar, slim your waistline, increase your energy levels, and improve your skin, this combined approach to nutrition and skin care will make you feel—and look—better than you ever have before. The secret? A three-day detox plan to get the sugar out of your system and get you on the path to eating and living the healthiest way possible.

The Sugar Detox
is unlike any health and wellness book I've read lately. Authors Brooke Alpert and Patricia Farris explain what sugar does to your body, going beyond the rote "it's bad for you," to detail how sugar affects not only your waistline and overall health, but how it ages your skin. Though I don't have a background in medicine/nutrition, from a layperson's standpoint, I thought
The Sugar Detox
was well-researched and found Ms. Alpert and Dr. Farris's resulting food plan and overall wellness guide to be sensible and not too difficult to follow.
Unfortunately,
The Sugar Detox
's greatest strength is also its greatest weakness. The scientific data Ms. Alpert and Dr. Farris use to explain what sugar does to your body isn't written in an easily digestible manner. This means that
The Sugar Detox
is a very dense read and I did wish the authors were a bit more concise in their explanations.
The Sugar Detox
is a well-thought out lifestyle change book. If you're tired of fad diets and simply want to get healthy, I recommend giving
The Sugar Detox
a try.