Perfect Fit by Carly Phillips
Series: Serendipity's Finest, Book 1
Publisher: Berkley
Genre: Contemporary Romance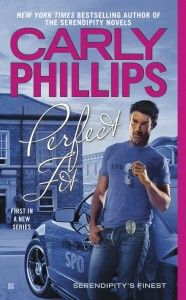 ISBN: 9780425259719
Blue Ribbon Rating: 4 out of 5
Original Review Link
Book Purchase Link
Michael Marsden has never felt like he fit in with his perfect family. But when his dad takes ill, Mike leaves his job as an undercover cop in Manhattan to take over as the temporary Chief of Police in Serendipity. Restless in his new role, Mike can't wait to leave his hometown and get back to the anonymity of the city. Then he reconnects with someone who changes his whole way of thinking.
Months ago, Officer Cara Hartley had a one night stand with Mike. Now he's her boss, which makes things awkward since the attraction between them burns hotter than ever. It's not long before they find themselves in a relationship, but even though Cara knows Mike's going to leave once his father recovers, she can't help falling for Mike. Then a cold case she's investigating starts unearthing secrets that could mean trouble for Mike's family and Cara realizes that everything is about to change.
Author Carly Phillips kicks off her SERENDIPITY'S FINEST series with a PERFECT-ly wonderful romance. PERFECT FIT is an engaging, sensual and utterly addictive read.
As the title suggests, Mike and Cara are a PERFECT FIT. That doesn't mean it's an easy road to happily ever after for them — far from it. Mike's got deep-seeded commitment issues stemming from insecurities he has about his place in his family. Cara, in turn, is the daughter of an abusive father and is understandably wary about relationships as an adult. Both have issues that stand in the way of their romance, but they're realistic problems and concerns. Even though they mess up at times, the way Cara and Mike care for each other as they fall in love often brought a smile to my face. So too did Mike's relationship with his siblings, whose stories I cannot wait to read.
The SERENDIPITY'S FINEST series is a continuation of Ms. Phillips's SERENDIPITY series, so while PERFECT FIT can be read as a standalone, fans of the SERENDIPITY series will surely be thrilled to revisit many of their old favorite heroes and heroines. I absolutely loved seeing many of the same characters again because it made me feel like I was a part of the Serendipity community.
A dash of mystery and a subplot involving a domestic violence victim adds a darker element to PERFECT FIT and provides some action outside of Cara and Mike's sexy romance. I adored PERFECT FIT and I'm incredibly excited to read the next book in the SERENDIPITY'S FINEST series, PERFECT FLING!
Note:
My review was written for Romance Junkies and is cross-posted here with permission from Romance Junkies.