The Brazen Amazon by Sandy James
Series: Alliance of the Amazons, Book 3
Publisher: Carina Press
Genre: Paranormal Romance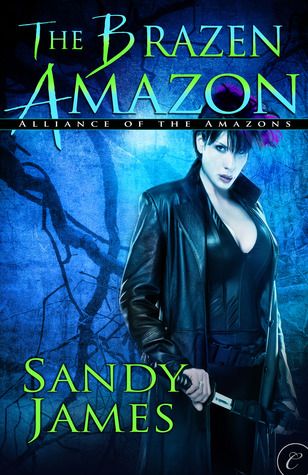 ISBN: 9781426895456
Release Date: May 6, 2013
Buy it here:
Carina Press
Sandy James Reading Order
Thwarting an Ancient with a thirst for destruction (and who has demigod helpers hell-bent on throwing the world into chaos) is all in a day's work for Air Amazon Gina Himmel. But her latest assignment — protecting techno wiz Zach Hanson from demigods who would kill him and take his place — has an unexpected complication that throws Gina off balance. For all her experience in battle, Gina's a novice when it comes to dealing with sexy brainiacs like Zach. The attraction is mutual, but Gina believes it's a mistake to get involved with the man she's supposed to be guarding. Luckily for her, Zach doesn't agree…
The Alliance of the Amazons series just gets better and better!
The Brazen Amazon
features a tech geek with the desire to be something more and a tomboy Amazon who deserves a man who sees and appreciates her for who she truly is. Zach is brilliant, and his immersion in the tech world doesn't keep him from accepting the magic-filled world Gina lives in. Gina, in turn, is confident in her position as an Amazon, but sexist ex-coworkers and preconceived notions of what it means to be a woman have made her vulnerable when it comes to her personal life. As a pair, Gina and Zach are dynamite and I adored them together (though I admit Megan and Johann from
The Impetuous Amazon
still have the number one spot in my heart). While Gina and Zach fell in love a bit too fast to feel completely organic, I was happy to follow these two wherever author Sandy James led them.
The Brazen Amazon
is the third book in the Alliance of the Amazons series, and I definitely recommend reading
The Reluctant Amazon
and
The Impetuous Amazon
before diving into Gina and Zach's story. Ms. James continues to build on the world she has created and the developments in
The Brazen Amazon
that have an impact on the series' overarching storyline are fantastic. I can't go into detail without spoiling the story, but I will say that there are some great twists and turns in this book that remind me why I fell in love with this series in the first place.
A host of secondary characters help further bring
The Brazen Amazon
to life. I enjoyed revisiting Rebecca, Artair, Megan, and Johann, and the updates Ms. James wove in about their lives were delightful. The changelings Beagan and Dolan continue to be my favorite characters in the series and this time around I actually liked the goddesses, Ix Chel, Gina's patron goddess, in particular. The most important supporting character was, however, Sarita, the Water Amazon. Like Megan and Rebecca in the first two books, Sarita and Gina are particularly close. It was such a pleasure to learn more about Sarita and Gina in
The Brazen Amazon
and with the way things are shaping up, Sarita might just be my favorite Amazon of them all. I finished
The Brazen Amazon
wanting to dive right into Sarita's book,
The Volatile Amazon
, but sadly I have to wait until it's released. I'm looking forward to the final confrontation against the "big bad" of the series and though Ms. James hasn't said who Sarita's hero is, after finishing
The Brazen Amazon
I have my fingers crossed for a certain someone.
The Brazen Amazon
is unique, interesting, and wholly entertaining. I can't wait to see where Ms. James takes the Amazons next!