Handcuffs and Ball Gags by Kim Dare
Series: Rawlings Men, Book 6
Publisher: Resplendence Publishing
Genre: Erotic Male/Male BDSM Romance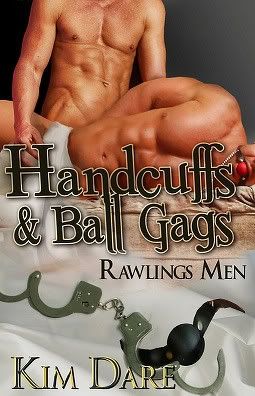 ISBN: 9781607352808
Blue Ribbon Rating: 3.5 out of 5
Original Review Link
Book Purchase Link
Dealing with mouthy environmental protestors isn't out of the ordinary for Constable Andrew Rawlings. This time, however, the protestor mouthing off to him is his roommate, Ben…whom Andrew expressly forbade from attending the demonstration. When things get out of hand and Ben is arrested, Andrew isn't surprised that the seemingly well-mannered teacher manages to talk his way out of trouble. But he's downright shocked when Ben continues to challenge him after the fact. It turns out that Ben has no desire to follow Andrew's orders – unless Andrew delivers them as his Master. Andrew's not one to back down from a challenge, especially now that he's learned the roommate he's been lusting after is a sub. And he's got just the item to tame his new submissive...
The teacher becomes the student in the sassy HANDCUFFS AND BALL GAGS. Kim Dare packs a lot of heat in this fun story, adding in a dash of sweetness to deliver a wonderful erotic romance. Ben and Andrew are both likeable heroes who have an everyman quality about them, something I find quite appealing. From the start, it's clear that there's sexual tension between them and the leap from friends to lovers isn't a great one. It's easy to become entranced by Ben and Andrew's story because HANDCUFFS AND BALL GAGS has both the comfortable feel of an established connection and the spark of uncertainty that the new sensual dynamic between them presents.
HANDCUFFS AND BALL GAGS is the sixth story in Ms. Dare's RAWLINGS MEN series, but not having read the previous five stories, I can safely say that HANDCUFFS AND BALL GAGS can be read as a standalone. However, Ms. Dare has a seemingly effortless, entertaining style that is so charming I know it won't be long before I go back and read the entire RAWLINGS MEN series.
Note:
My review was written for Romance Junkies and is cross-posted here with permission from Romance Junkies.