Below the Belt by Jeanette Murray
Series: First to Fight, Book 1
Publisher: Berkley
Genre: Contemporary Romance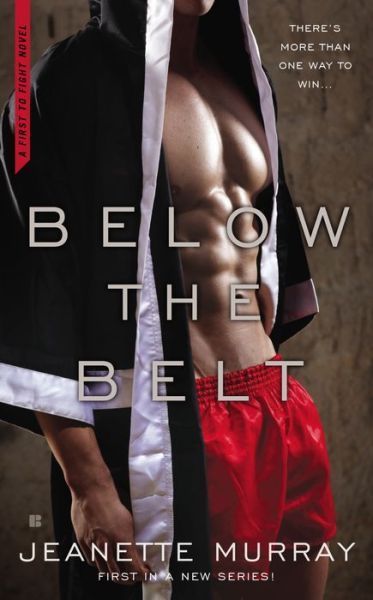 ISBN: 9780425279250
Release Date: April 7, 2015
Source: Publisher
Buy it here:
Amazon
|
B&N
Athletic trainer Marianne Cook is ready to do whatever it takes to turn the men of the Marine Corps boxing team into fighting machines. After all, her ultimate goal is to land a job training professional athletes. But when she notices a certain hard-bodied marine trying to hide an injury, Marianne realizes that she'll have to use covert tactics to get him talking.

First Lieutenant Brad Costa has waited years for the chance to fight for a spot on the Marine Corps boxing team, knowing he has to push twice as hard to get half as far as his younger counterparts. Brad tries to downplay his injuries to the attractive trainer who has his dreams in her hands, but Marianne isn't buying it. Maybe it's time to deploy some targeted flattery.

As Brad and Marianne's attraction turns red-hot, there's more than one person having a hard time keeping their eyes on the prize…
Jeanette Murray kicks off her First to Fight series with the wonderfully entertaining
Below the Belt
. I had a blast reading Brad and Marianne's story; it's fun, sexy, and the characters are so likeable you won't want to put the book down.
I loved that Brad was a serious athlete, one who's aware of both his strengths and weaknesses. His reasons for wanting to be on the team are very personal and cause him to be a bit stubborn when he's injured. He has to work extra hard to make up for the fact that he's older than the rest of his potential teammates and to work around the major issue of the knee injury he gets right at the beginning of training camp. His fear of being cut from the team causes him to try and hide his injury from Marianne, which of course leads to major complications once he starts to fall for her. Marianne is a smart, caring trainer ready to excel at her job. She knows Brad is injured and is as determined to get him to let her help him as he is determined to hide the extent of his injury. When attraction and then love enter the mix, things get dicey for both of them, but Ms. Murray definitely gave this plotline a satisfying resolution.
Brad and Marianne are a dynamite couple. Their flirtation is pure fun to read and when the sexual tension heats up
Below the Belt
gets even better. As I mentioned before, their professional lives are inextricably intertwined with their burgeoning relationship, but I love that they handled the potentially taboo topic of an athlete and trainer dating like adults. There's no faux drama or sneaking around and that made me root for these two all the more. Their romance was both sweet and hot, and I had the biggest grin on my face when Brad and Marianne got their happily ever after.
I can't talk about
Below the Belt
without discussing Brad's fellow Marines. Brad's the strong, silent type, but he's about to learn that no man can be an island on the Marine Corps boxing team. I laughed as he was practically dragged out his isolation by his hilarious roommate, Gregory Higgs, not to mention the younger Marines who looked up to him. The relationships among the Marines as they begin to form a team makes is as important as the romance in
Below the Belt
. Ms. Murray makes these men so appealing you wish they were real just so you could meet them (and no, not just because they're all incredibly hot). I can't wait to see how the team develops over the course of the series.
Below the Belt
has charm and heat to spare, but when you add in the intelligent characters and Ms. Murray's attention to detail when it comes to training, the Marine Corps, and the work an athletic trainer does, there's no doubt that this book is not to be missed. I love a good sports romance, so please, Ms. Murray, keep these Marine athletes coming!
FTC Disclosure:
I received this book for free from the publisher in exchange for an honest review. This does
not
affect my opinion of the book or the content of my review.