Waiting On Wednesday is a weekly event hosted by Jill at
Breaking the Spine
which spotlights eagerly anticipated upcoming releases!
I LOVE Jill Shalvis's books and it's pretty much a guarantee I'm going to jump up and down like a madwoman whenever I get a new book of hers. Seriously, if you haven't read her work, run, don't walk and pick up
Simply Irresistible
, her first Lucky Harbor, book and prepare to fall in love. Lucky Harbor sidetrack aside, I cannot wait to delve into Ms. Shalvis's new Cedar Ridge series.
Second Chance Summer
has a hot firefighter and a reunion romance - even if I wasn't hooked on Jill Shalvis I'd be grabbing this one :)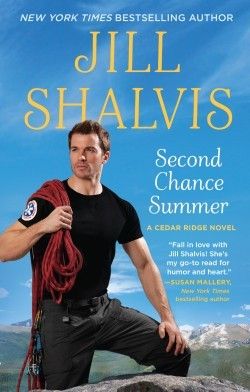 Title:
Second Chance Summer
Series: Cedar Ridge, Book 1
Author:
Jill Shalvis
Genre: Contemporary Romance
Publisher: Grand Central Publishing
Release Date: June 30, 2015
Jill Shalvis Reading Order and Reviews
Book Description (from
Jill Shalvis's website
):
Cedar Ridge, Colorado, is famous for crisp mountain air, clear blue skies, and pine-scented breezes. And it's the last place Lily Danville wants to be. But she needs a job, and there's an opening at the hottest resort in her hometown. What has her concerned is the other hot property in Cedar Ridge: Aidan Kincaid-firefighter, rescue worker, and heartbreaker. She never could resist that devastating smile...
The Kincaid brothers are as rough and rugged as the Rocky Mountains they call home. Aidan has always done things his own way, by his own rules. And never has he regretted anything more than letting Lily walk out of his life ten years ago. If anyone has ever been in need of rescuing, she has. What she needs more than anything are long hikes, slow dances, and sizzling kisses. But that can only happen if he can get her to give Cedar Ridge-and this bad boy-a second chance...