Once and Always by Elizabeth Hoyt writing as Julia Harper
Publisher: Forever
Genre: Contemporary Romance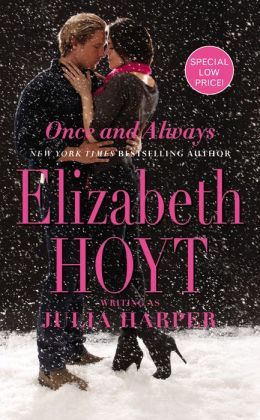 ISBN: 9780446550635
Release Date: February 24, 2015
Source: Publisher
Buy it here:
Amazon
|
B&N
Elizabeth Hoyt/Julia Harper Reading Order
IS THERE A PROBLEM, OFFICER?
Small town cop Sam West certainly doesn't mind a routine traffic stop: speeding ticket, stern warning, and sayonara. With a whopper of a blizzard closing in, that's all he has time for. But the lawbreaker he pulls over is anything but typical. From her mile-long legs to her razor-sharp wit, Maisa Burnsey is like nothing Coot Lake, Minnesota, has ever seen...and she's about to take Sam on the ride of his life.

BEING BAD HAS ITS BENEFITS
Whoever said blood is thicker than water probably wasn't related to a former Russian mobster. But an innocent mix-up and rumors of stolen diamonds soon have the Russian mob taking an unusual interest in the sleepy little town-and Maisa facing heated scrutiny from a certain tall, dark, and handsome deputy. Sam's dazzling blue eyes beg her to reveal all her secrets, but how much should she tell? Getting snowed in with the sexiest lawman in the frozen north may not be the worst way to decide...
A sexy, determined deputy who's head over heels in love with a gun-shy dress designer – how could I resist? Author Julia Harper drew me in from the start with Sam and Maisa and I was ready for a fun ride. The two of them have a history, one I wish we'd seen in flashbacks because it serves as a solid foundation for their love story. Maisa, whose family isn't all on the up-and-up, has abandonment issues thanks to her father and is concerned about letting Sam into her heart only to have him leave her. She needn't worry, for Sam is absolutely crazy about her and man, he's a hero to make you swoon. I loved each layer of Sam's character Ms. Harper revealed, and I only wish Maisa had been as well developed, for she showed a lot of promise.
Once and Always
both delivers and doesn't, for it's a satisfying romance with interesting characters, but the story ultimately falls short of its potential. The book starts off with contemporary romance staples: a hero and heroine with great chemistry and an impending storm in a small town. But strangely enough, once Ms. Harper gives the story her own spin by adding in the Russian mafia and a crazy suitcase switch with stolen diamonds, the story falters. The issue I had with
Once and Always
was that it was trying to be too many things at once – steamy romance, screwball comedy, action with the mafia and a
High Noon
-lite showdown – and none of these things blended well with the other. No storyline or character (except Sam) is fleshed out as well as they could be, which was a pity. A tertiary plotline involving a romance between secondary characters Karl and Molly had potential to be lots of fun, but alas was underserved by limited page time and only ended up detracting further from Sam and Maisa.
Julia Harper is perhaps better known as Elizabeth Hoyt, whose historical romances I absolutely adore. The two names are definitely appropriate, as Ms. Harper's writing style is very different in
Once and Always
compared to, say,
Wicked Intentions
. I liked
Once and Always
, but perhaps knowing how much better Ms. Hoyt's books usually are dampened my spirits a bit. All in all, if you want to suspend disbelief and simply enjoy a fast-paced story with some action, steam, humor, and an adorable dog (Otter the Dog is fabulous), I'd say you can't go wrong with
Once and Always
. It may not have been my cup of tea overall, but it has promise and I'll definitely be back for more Julia Harper books.
FTC Disclosure:
I received this book for free from the publisher in exchange for an honest review. This does
not
affect my opinion of the book or the content of my review.