Waiting On Wednesday is a weekly event hosted by Jill at
Breaking the Spine
which spotlights eagerly anticipated upcoming releases!
I fell in love with Julia Quinn's writing many years ago (seriously, if you haven't read her Bridgerton series...do so ASAP. Run, don't walk ;)). JQ is still one of my absolute favorite authors and I can't wait for her final Smythe-Smith book. I'm sure it will be as funny and entertaining as all her stories.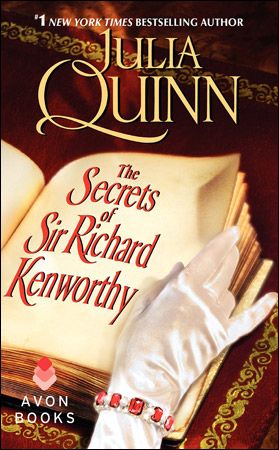 Title:
The Secrets of Sir Richard Kenworthy
Series: Smythe-Smith Quartet, Book 4
Author:
Julia Quinn
Genre: Historical Romance
Publisher: Avon
Release Date: January 27, 2015
Julia Quinn Reading Order
Book Description (from
Julia Quinn's website
):
Sir Richard Kenworthy has less than a month to find a bride. He knows he can't be too picky, but when he sees Iris Smythe-Smith hiding behind her cello at her family's infamous musicale, he thinks he might have struck gold. She's the type of girl you don't notice until the second—or third—look, but there's something about her, something simmering under the surface, and he knows she's the one.
Iris Smythe–Smith is used to being underestimated. With her pale hair and quiet, sly wit she tends to blend into the background, and she likes it that way. So when Richard Kenworthy demands an introduction, she is suspicious. He flirts, he charms, he gives every impression of a man falling in love, but she can't quite believe it's all true. When his proposal of marriage turns into a compromising position that forces the issue, she can't help thinking that he's hiding something . . . even as her heart tells her to say yes.