He's No Prince Charming by Elle Daniels
Series: Ever After, Book 1
Publisher: Forever
Genre: Historical Romance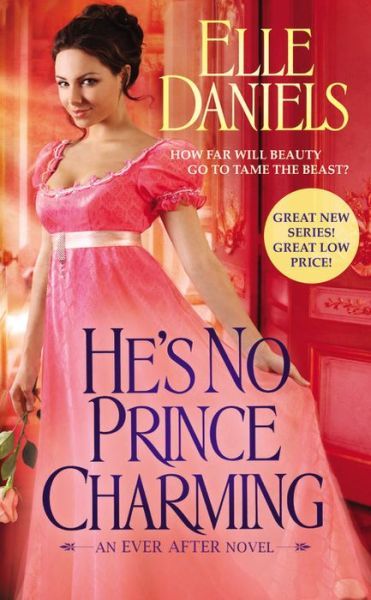 ISBN: 9781455545551
Release Date: October 28, 2014
Source: Publisher
Buy it here:
Amazon
|
B&N
A wounded beast…
It took Marcus Bradley forever to find a suitable bride. And then he lost her-all because some meddling matchmaker with a crazy notion about "true love" helped her elope with another man. Now, to save his sister from a terrible marriage alliance, he needs a replacement-an heiress to be exact . . . and he knows just the woman to help him find one.

A spirited beauty…
Danielle Strafford believes everyone deserves a fairytale ending-even the monstrously scarred and notoriously brooding Marquis of Fleetwood. Not that he's left her a choice. If she doesn't help him secure a wife-by any means necessary-he'll reveal her scandalous secrets.

A passion that will consume them both
The more time Marcus spends with Danielle, the less interested he is in any other woman. But the Beast must do the impossible: keep from losing his heart to a Beauty he is destined to lose.
Beauty and the Beast
gets a Regency romance remake in
He's No Prince Charming
. Elle Daniels's debut novel is bursting with energy and emotion, and I'm looking forward to seeing how her talent develops.
Danni is a charming heroine. She's smart, outspoken, and though she sometimes behaves rashly, she does so out of a genuine desire to help others. Danni aches for love, and she finds it with Marcus, the man society refers to as the Beast. Though Marcus isn't a bad man, he does do some beastly things (blackmail and kidnapping) because he sees no other way to protect his sister. Less-than-gentlemanly behavior aside, my heart broke for him, as Marcus has been abused and shunned for most of his life. He has severe problems coping with what was done to him in the past, and I liked that Ms. Daniels didn't magically cure him of his troubles. As a couple, Marcus and Danni were surprisingly sweet. They come alive in each other's company, even though their relationship has a tumultuous start. It's easy to fall into their burgeoning romance, though their love story is not without its obstacles (some of them imposed by the hero and heroine themselves).
Where
He's No Prince Charming
faltered for me was the believability factor. I have no problem suspending disbelief, especially for fairytale retellings, but I was asked to do so far too often in this story. Danni and Marcus act, at times, too modern for a historical romance, and there were multiple glaring historical inaccuracies (too spoilerish to reveal) that pulled me out of the story.
Issues aside,
He's No Prince Charming
is an enjoyable story and I can't wait to see where Ms. Daniels takes her Ever After series next!
FTC Disclosure:
I received this book for free from the publisher in exchange for an honest review. This does
not
affect my opinion of the book or the content of my review.