Wicked Temptation by Zoë Archer
Series: Nemesis, Unlimited, Book 3
Publisher: St. Martin's Paperbacks
Genre: Historical Romance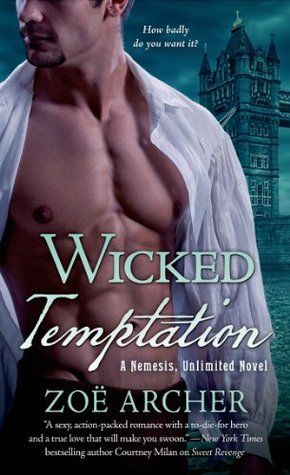 ISBN: 9781250015617
Source: Publisher
Buy it here:
Amazon
|
B&N
Zoë Archer Reading Order
FATE BROUGHT THEM TOGETHER.
Newly widowed, Bronwyn Parrish's fortune has been spent settling her late husband's debts—thanks to an unscrupulous business manager—and now there's nothing left. Society has no place for a woman without means, and with nowhere to turn, Bronwyn is lost…until, from out of nowhere, a handsome gentleman steps in and makes her an offer she can't refuse.

WILL DESIRE TEAR THEM APART?
Secrets and subterfuge are in Marco Black's blood. As one of Nemesis, Unlimited's most senior agents, Society women aren't his usual cup of tea. But Marco's sixth sense tells him that there's more to Bronwyn than meets the eye…and he wants to help the brazen beauty retrieve her lost fortune. But is his attraction to her worth the risk? His mission will lead him all the way to Les Grillons, France's most ruthless crime syndicate. Soon, Marco and Bronwyn will find themselves facing a danger that could cost them their lives—and a passion that is priceless.
Nemesis, Unlimited is back with
Wicked Temptation
! This time it's sexy Italian-English super spy Marco who's front and center, and this case isn't the kind he'd normally choose. Marco has no use for entitled aristocrats and he has even less interest in helping a society widow recover her fortune. As his fellow agents don't share his bias, Marco finds himself helping Bronwyn Parrish. Bronwyn is nothing like Marco expects her to be. She's lived her life according to the rules society has laid down, but she's not spoiled or snobbish. Her "reward" for being all that a lady should be is to find herself homeless and penniless, yet she doesn't let that knock her down. She's ready to take charge of her life, and with Nemesis' help, she's finally able to do so. But her path to independence isn't an easy one, as the hunt to recover her money puts Bronwyn and Marco in the crosshairs of a French crime syndicate.
For me, the best part of
Wicked Temptation
was watching Marco reevaluate his initial opinions of Bronwyn and of her finding her true self outside the mold society has fit her into. Each of them has expectations of what their life will be and their attraction to one another turns that on its head. Their romance is filled with tension, but ultimately author Zoë Archer makes it satisfying.
The action in
Wicked Temptation
is as central to the story as the romance. Marco and Bronwyn must outmaneuver and outwit deadly French criminals, and the danger adds some adrenaline-filled scenes to the story. That being said, for the most part the story seemed to move at a slower pace than other books of Ms. Archer's. There's a lot of back and forth and quite a bit of waiting. While this adds a sense of realism, it didn't particularly make the story compelling.
Wicked Temptation
is a well-written, solid story. While it isn't my favorite book of Ms. Archer's, I still appreciate it for its uniqueness. Ms. Archer always creates strong, intelligent characters and puts them in unconventional (for historical romance) settings, which is why I keep coming back to her work. I look forward to seeing what Ms. Archer comes up with next – I'm hoping it's a story for the rather colorful Nemesis acquaintance Charlie :)
FTC Disclosure:
I received this book for free from the publisher in exchange for an honest review. This does
not
affect my opinion of the book or the content of my review.