If you've read my review of
Bitter Spirits
(no spoilers) or have simply talked to me in the last week, you know I'm gaga over
Jenn Bennett's
wildly original new series set in 1927 San Francisco. I was lucky enough to interview Ms. Bennett, thanks to her publisher, Berkley. I gotta say, the Q&A with Ms. Bennett made me even more eager for more Roaring Twenties novels...and has perhaps persuaded me to sneak in a re-read of
Bitter Spirits
(Ssssh...don't tell my TBR pile ;))
Q: I love how unique the setting of Bitter Spirits is. What inspired you to write a paranormal romance set in Prohibition-era San Francisco?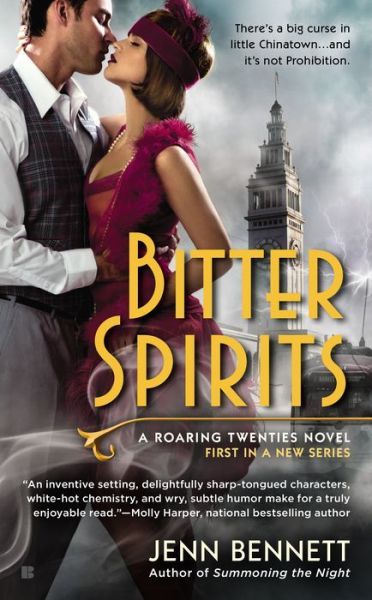 A:
Thanks so much for having me on your blog! Regarding the geography, I have a wee (okay, enormous) crush on Central/Northern California. Both BITTER SPIRITS and an upcoming 2015 young adult book I've written take place in San Francisco, and my urban fantasy series, Arcadia Bell, is set in a fictional town a couple hours down the coast near Big Sur. And as far as the time period goes, I've loved the 1920s since I was a teenager, so combining that decade with the Bay Area was like chocolate and peanut butter: indulgent and joyful!
Q: How many books do you have planned for the Roaring Twenties series? (I admit, this question may be a roundabout way of asking if Bo and Astrid will get a book or books :)).
A:
Oh, I'm so happy you asked that, because I love Bo and Astrid together THIS MUCH. (It's a lot!) For those who haven't read BITTER SPIRITS, Astrid is the hero's 17-year-old sister and Bo is the hero's assistant. The two of them make a couple of appearances in the second book in the series, GRIM SHADOWS, and I am planning to write a third book this summer, which will be Bo and Astrid's love story-which, time-wise, will bleed into the 1930s.
Q: Do you have any favorites of the characters you've written?
A:
I really do adore Winter and Aida, the hero/heroine of BITTER SPIRITS. But I think my favorite character to write was Lowe-Winter's younger brother, who is an archeologist and the hero of the second book, GRIM SHADOWS. Lowe is a grand storyteller and habitual liar, and he's overflowing with charm and wit. I wrote him in a very deep POV and rather enjoyed conjuring him on the page.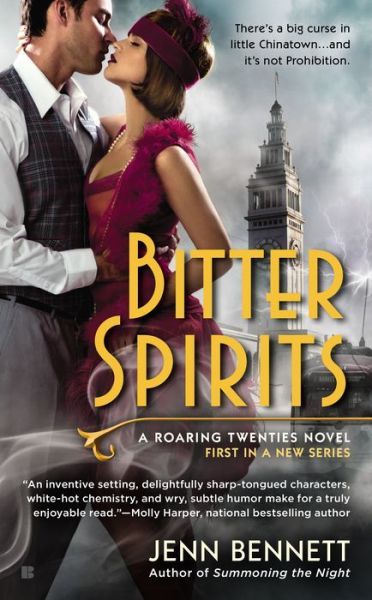 Q: What's one thing about being an author you wish someone had told you before you were first published?
A:
I started writing five years ago. BITTER SPIRITS is my fourth published book, and I have two more coming out this year and at least one in 2015. It's been strange trip filled with stress and fear, and it often makes me question my sanity. But, you know, I don't think any sort of warning or revelation would've stopped me from writing.
Q: When you're not writing, what do you like to do?
A:
I draw. I collect things (Fiestaware, miniature Viking ships, Tiki mugs, old books, toadstool statues, vintage postcards of Giant Sequoias, and early 20th century knickknacks). I cook (very well). I travel (or make future plans to travel). I game. I read (a lot). I listen to music. I watch old films from the 1920s-1950s with my (super cool) husband. I play with my two pugs. But mostly, I try to distract myself from dreaming up the next book. Strangely, it never works!
About Bitter Spirits: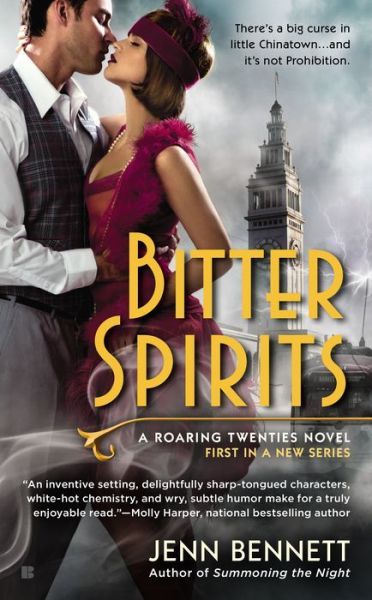 It's the roaring twenties, and San Francisco is a hotbed of illegal boozing, raw lust, and black magic. The fog-covered Bay Area can be an intoxicating scene, particularly when you specialize in spirits…
Aida Palmer performs a spirit medium show onstage at Chinatown's illustrious Gris-Gris speakeasy. However, her ability to summon (and expel) the dead is more than just an act.
Winter Magnusson is a notorious bootlegger who's more comfortable with guns than ghosts—unfortunately for him, he's the recent target of a malevolent hex that renders him a magnet for hauntings. After Aida's supernatural assistance is enlisted to banish the ghosts, her spirit-chilled aura heats up as the charming bootlegger casts a different sort of spell on her…
On the hunt for the curseworker responsible for the hex, Aida and Winter become drunk on passion. And the closer they become, the more they realize they have ghosts of their own to exorcise…
My Review
|
Amazon
|
B&N
|
IndieBound
About Jenn Bennett:
Jenn Bennett is the author of the Arcadia Bell urban fantasy series from Pocket Books and the Roaring Twenties historical paranormal romance series from Berkley. Born in Germany, she's lived and traveled extensively throughout Europe, the U.S., and the Far East. She currently lives near Atlanta with one husband and two very bad pugs.
http://www.jennbennett.net/