Waiting On Wednesday is a weekly event hosted by Jill at
Breaking the Spine
which spotlights eagerly anticipated upcoming releases!
I love Addison Fox's Alaskan Nights series. There's just something about reading these books that makes me happy. The third book,
Just In Time
, comes out in August and I'm eager to see what Ms. Fox has in store for Avery and Roman, a couple she's been building up to since book 1. If you like contemporary romance, I definitely recommend reading the first two Alaskan Nights books,
Baby It's Cold Outside
and
Come Fly With Me
.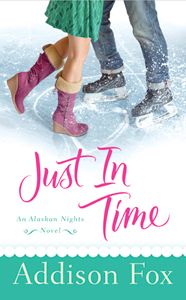 Title:
Just In Time
Series: Alaskan Nights, Book 3
Author:
Addison Fox
Genre: Contemporary Romance
Publisher: Signet
Release Date: August 6, 2013
Book Description (from
Addison Fox's website
):
Sometimes your past is the only link to your future.
After a rejuvenating trip to Ireland, Avery Marks can't help her frustration with the pace of her life in Alaska. Back in the small town of Indigo—where everyone knows everyone else's business—Avery dreams of a bigger life. But with her ex-boyfriend back in town, it's hard to get the past out of her head.
Drafted by the NHL right out of high school, Roman Forsyth left behind the love of his life to follow his pro career. With an injury sidelining him, Roman isn't sure how much longer he'll be at the top of his game. He is sure that he wants Avery just as much as he ever did.
While Roman wants a chance to make things right, Avery isn't sure she can just forgive and forget. But when their long-buried passion sizzles back to life, they need to escape the watchful eyes of the rest of the town long enough to figure out if it's any harder to stay together than it's been to stay apart...