Waiting On Wednesday is a weekly event hosted by Jill at
Breaking the Spine
which spotlights eagerly anticipated upcoming releases!
I'm a huge Elle Kennedy fan, and I've been eager to read Dylan's book since the seventh Out of Uniform story,
Feeling Hot
. In the last Out of Uniform book,
Getting Hotter
, the sexual tension between Dylan and Aidan was off the charts HOT, so I am on the edge of my seat waiting for
Hotter Than Ever
!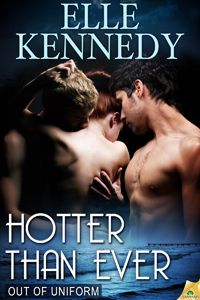 Title:
Hotter Than Ever
Series: Out of Uniform, Book 9
Author:
Elle Kennedy
Genre: Erotic Contemporary Romance
Publisher: Samhain Publishing
Release Date: July 9, 2013
Elle Kennedy Reading Order
Book Description (from
Elle Kennedy's website
):
When you land in hot water, swim for safety—or let the fire burn.
Claire McKinley has just experienced every bride's nightmare. The groom is a no-show, and now she must face five hundred guests alone. Furious and humiliated, Claire seeks help from the most unlikely candidate—her almost-brother-in-law, who promptly whisks her away to his apartment in San Diego, where she can recover her pride in peace and quiet.
Dylan Wade is no fan of Claire's, but no way can he leave the jilted bride in her time of need. Bringing her home seems like a good idea—until he remembers his new roommate. Dylan's relationship with Aidan is…complicated. And with Claire thrown into the mix, life becomes even more…complicated.
Claire is blindsided by her attraction not only to Dylan, but also to Aidan, a man she's just met. Soon they're caught up in an all-consuming sexual storm they can't fight even if they wanted to. Yet Claire wonders if it can last, or if she's just setting herself up for more heartache.
Warning: This book is very dirty. Ménage a trois and man-on-man dirty. Graphic-language and explicit-sex dirty. Basically? Dirty. You've been warned.